Thing to Do
Explore the Valley Forge Encampment Museum Exhibit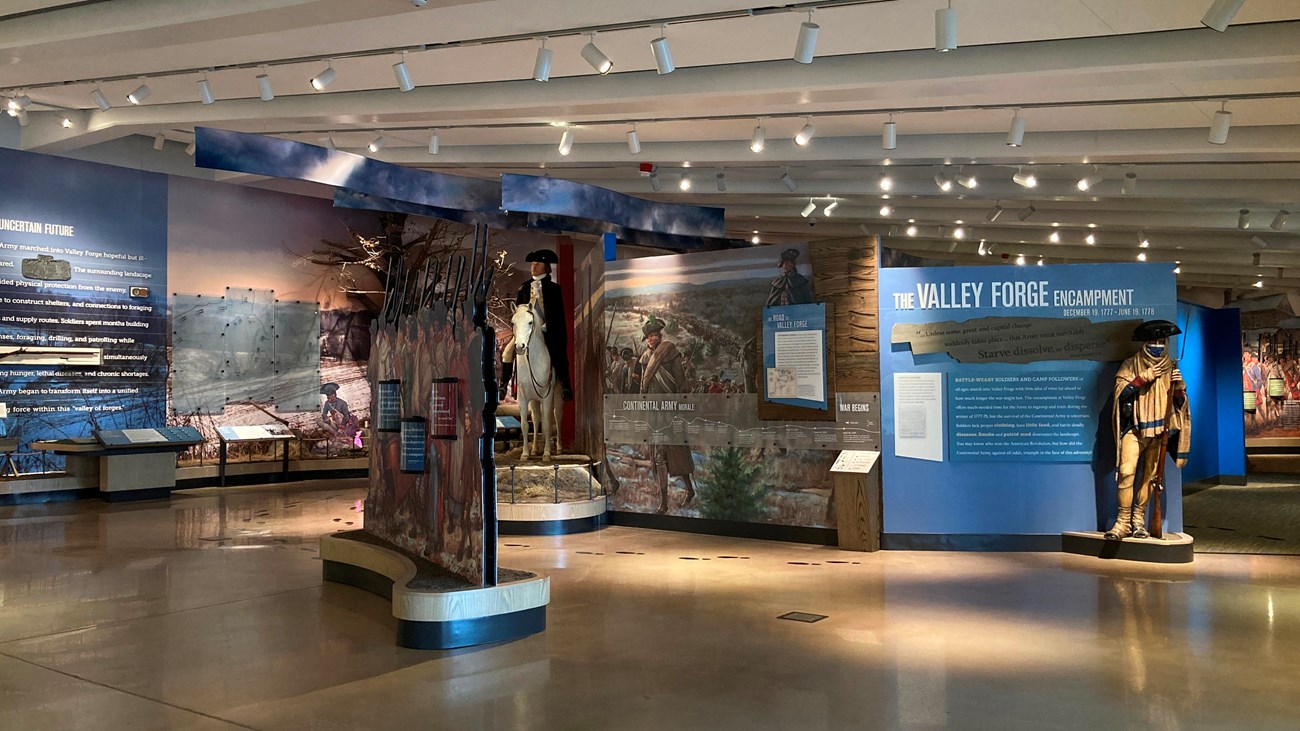 Explore the sights, sounds, and stories of the Valley Forge encampment during a visit to the brand-new museum exhibit located in the Visitor Center at Valley Forge, open daily from 9 AM to 5 PM.
As you move through the exhibit, you'll discover how men, women, and children from many different walks of life all struggled together during the winter of 1777-78, and how they perservered to ultimately overcome incredible hardships and march away from Valley Forge a stronger, more unified fighting force.
The exhibit includes murals, interactive features, tactile elements, and hundreds of historic objects and artifacts from the park's museum collections. (And a life-sized model of George Washington riding a horse!)
First opened on February 16, 2022, the public dedication of the museum exhibit and renovated visitor center building marks the completion of a 5-year project.
Most of the exhibit can be experienced in about 30-40 minutes, but it could take up to an hour to read every panel!
Interactive Experiences
Build a log hut, practice your drills, or put yourself in the shoes (or lack therof, as the case may be) of a hungry soldier.
Historic Objects from the Museum Collection
See historic artifacts from the Revolutionary War, including cookware, clothing, muskets, and swords.
What Happened After the Encampment
After the army left Valley Forge in 1778, learn how local citizens came together to preserve first Washington's Headquarters, then the whole of the encampment grounds for future generations with the creation of Pennsylvania's first state park.
All ages are welcome, but minors must be with an adult parent or guardian.
There are no fees at Valley Forge!
Location
Visitor Center at Valley Forge
The Visitor Center at Valley Forge and the museum exhibit is open daily, 9 AM to 5 PM. Closed on Thanksgiving, Christmas, and New Year's days.
Accessibility Information
The exhibit space is wheelchair accessible. Wheelchair available upon request.

Audio description is available for visual content.

Many parts of the exhibit provide tactile elements.

Video content with audio provides on-screen captions.
Last updated: July 7, 2022