THING TO DO
Discover Women's History on the Natchez Trace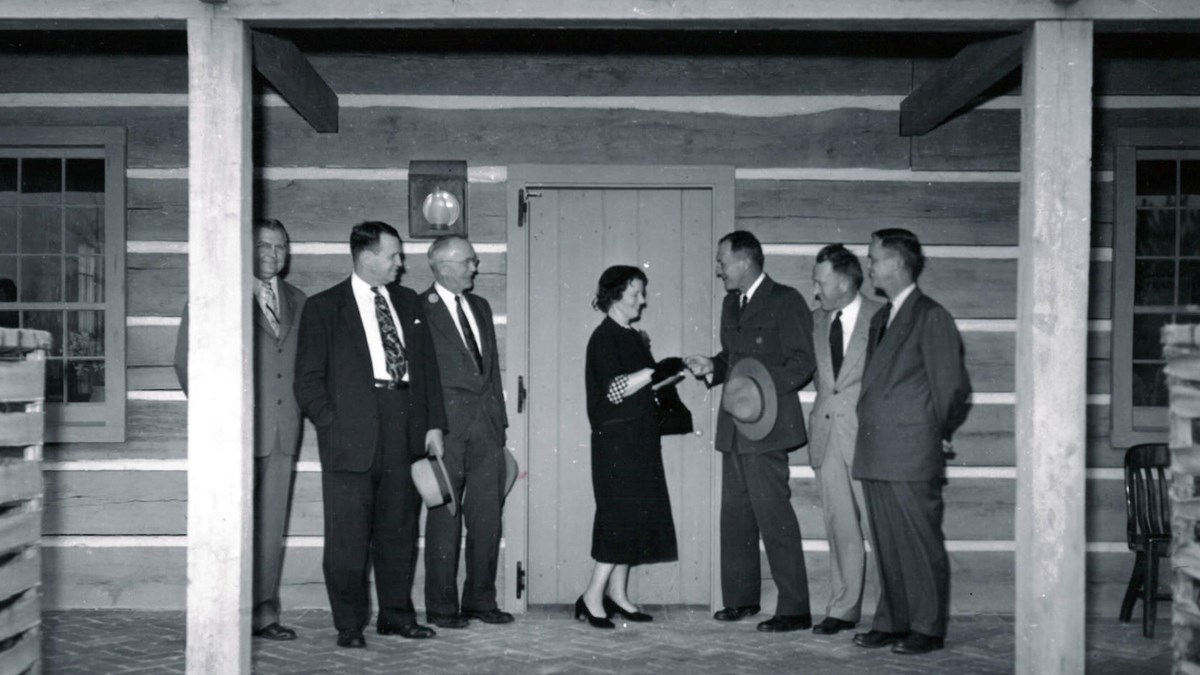 To learn more about the women who historically worked and lived along the Natchez Trace Parkway, follow these sites from Natchez, MS, up to Nashville, TN, or vice versa. There is no designated starting or finishing place. A milepost and some brief history is given for each site you may visit. 
While exploring, think about the women in your life, how do they inspire you?
Elizabeth Female Academy, Milepost 5.1
These ruins were once part of a school. Founded in 1818, this was the first school for women charted by the state of Mississippi. The Academy was named after Elizabeth Roach Greenfield, who donated the land for the school. Study courses included natural philosophy, chemistry, Latin, botany, and classical subjects. In 1822, John James Audubon taught drawing here.  In 1825, the Academy had great success under Caroline Thayer. Her methods attracted new students and saw expansions of the school. 
Thayer believed that an academically educated woman would thrive as a wife and mother. Her methods catered to this, including advanced students helping the younger girls through their studies. In 1845, the school closed its doors, and by the late 1870s a fire reduced the site to ruins. 
What would you have studied? What do you think it was like for women to go to school during this time?
Mount Locust Milepost 15.5
Paulina "Polly" Chamberlain lived here from 1768 to her death in 1849. Polly was left to run this inn and working plantation alone as well as raise her children. As the name suggests, Polly had a number of enslaved people working the surrounding fields. A landowner and business woman, Polly saw Mount Locust prosper under her leadership. Not a lot of women could do this in the early 1800s. Have fun exploring the site.
Do you think you could have done what Polly did? Why or why not?
Rocky Springs Town Site Milepost 54.8
Rocky Springs, named for the once flowing spring nearby, was a thriving town from the late 1700s to the early 1900s. The town made most of its money off of the surrounding area's cotton profit. Because of this, most of the population were enslaved people. Of the 2,616 people who lived in the town and surrounding areas in 1860, 2,000 of them were listed as enslaved people. The Civil War, a yellow fever epidemic, and a destructive insect, the boll weevil, saw the end of this small town. The only reminder of the town is the church and nearby cemetery. 
Before the boll weevil destroyed the economy, the plantation owning women of this era had expectations of living lives of luxury. Can you relate to the experiences of these women? How do you think this differed for the enslaved people?
Parkway Information Cabin Milepost 102.4
In 1951, Roane Fleming Byrnes helped to open this contact station, originally the Mississippi Craft Center. That is not the only thing Byrnes helped establish along the 444-mile Parkway. Referred to as the "Queen of the Natchez Trace", Byrnes was instrumental in preserving the Old Trace and seeing it designated as a National Park Service site in 1938. Byrnes would invite national leaders into her home and always steered the conversation to the Natchez Trace Parkway. Guests left fully committed to supporting the project.
A friend commented that the Natchez Trace was paved with "Moonshine and meatloaf." Byrnes saw about 300 miles of the Parkway completed. She often said, "I want to ride on the Natchez Trace all the way before I have to ride on the golden streets."  Unfortunately, she passed in 1970, and the Parkway was not completed until 2005. 
What inspires you to preserve and protect important places that you love?
French Camp Milepost 180.7
Look for a stone monument. This is a Daughters of the American Revolution marker. In 1908, Elizabeth Jones, a member of the D.A.R., started the movement to follow the route of the Old Trace and urged for the placement of monuments and markers related to the history. This act gave great attention to the Old Trace, eventually leading to its designation as the Natchez Trace Parkway in 1938.  You can see a lot of these markers along the Parkway at various 
pull-offs. Keep an eye peeled for them during your travels!
What history do you think is important to remember? 
Chickasaw Village Site Milepost 261.8
Welcome to Chickasaw Village! This ridge would have been home to about 200 Chickasaws. The homes you see outlined are where actual homes stood, we know this due to extensive archaeology done in the area.
The Chickasaw people are a matrilineal society, meaning they trace their kinship through the female line. Because of this, these homes would have belonged to the women of the tribe, as they managed their own resources and homes; a home was the women's not the man's. Women's rights did not end there, they were also battle strategists, business women, active voters in their tribe, and much more. Their voices were heard within their community. 
Explore the area, do you think you would have liked to live here? Why or why not?
Meriwether Lewis Milepost 385.9
Priscilla Grinder worked alongside her husband at Grinder's Stand, which no longer exists along the Natchez Trace Parkway. The cabin you see is a good visual represention of what might have been here.
On October 10, 1809, Meriwether Lewis was given a room to stay the night. During the night, Mrs. Grinder heard two gunshots, when she peeked out from her home, she could see Lewis struggling but did not go to him as she was afraid. Lewis died by morning from the wounds to his head and torso. Historical evidence, including letters from close friends and interviews with Mrs. Grinder, support that Lewis completed suicide.  
If someone you know has talked about suicide, look for professional help. You can visit MentalHealth.gov, or to talk to someone now call the National Suicide Prevention Lifeline at 1-800-273-8255.
Gordon House Historic Site Milepost 407.7 
Dolly Cross Gordon was a stand owner's wife who embraced responsibility. She and her husband John ran a trading post out of their home where you currently are. John was repeatedly called away during the War of 1812, leaving Dolly to manage the family's business dealings. After his death in 1819, it was natural for Dolly to take over the farmland with the help of her sons and enslaved people. At the time of her death in 1859, her son-in-law wrote, "She bore the burdens of their home, and was as brave and heroic as he (her husband) was." 
How have hardships shaped the person you are today?
The duration depends on the numbers of stops you do and if you do the whole Parkway.
Activity
Self-Guided Tours - Auto
Pets must be on a leash at all time and owners are required to pick up after their pets.
Entrance fees may apply, see Fees & Passes information.
Location
Natchez Trace Parkway in Mississippi, Alabama, and Tennessee
Time of Day
Day, Dawn, Dusk
Accessibility Information
Check information for each site for details about accessibility as each site has a different degree of accessibility. Some are paved and others are not. All sites have paved parking lots.
Last updated: April 10, 2021