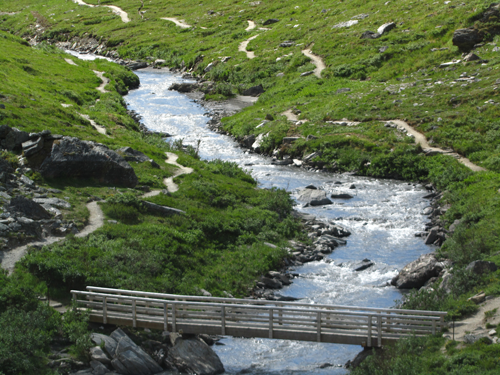 Why Explore Savage River?
Scenery
The Denali Park Road is near the tree-line in this area. This means most of the vegetation is short and brushy, which lets you see for long distances. The Alaska Range, to the south, is very prominent and Denali can be seen on the way to, and from many points around, Savage River.
Wildlife
On occasion, large animals like bears, moose, Dall sheep and caribou can be seen in the area.
Access
You can get here in your own car when the park road is open (roughly May-September, sometimes in April and October). In summer, you can also use a free bus called the Savage River Shuttle to get here.
Things to Do at Savage River
Long hike
The Savage Alpine Trail is a strenuous trail. Start at either the Savage River parking lot or the Mountain Vista parking lot and hike one-way on the trail; in summer, you can then use a free bus called the Savage River Shuttle to travel back to your car (or back to the park entrance, if you came to the area originally via shuttle).
Short hike
The Savage River Loop Trail is about 2 miles round-trip. It meanders alongside Savage River for about a mile, crosses the river on a small bridge, and winds back to the parking area.
Picnic
Picnic tables are available. Please be cautious about your food; mew gulls and squirrels in this area can be very persistent at trying to steal food. Do not allow wildlife to obtain food from you!
Leaf-peeping
In August, this landscape typically erupts into a vivid sea of red foliage, as dwarf birch is prevalent. The exact peak of fall colors is variable, but typically the second or third week of August is the high point.
Cross-country ski
The road is impassable to this point for most of the early and mid-winter, but we begin plowing the park road in March. Once vehicle access is possible, in late winter and spring, this is a popular area for skiing.