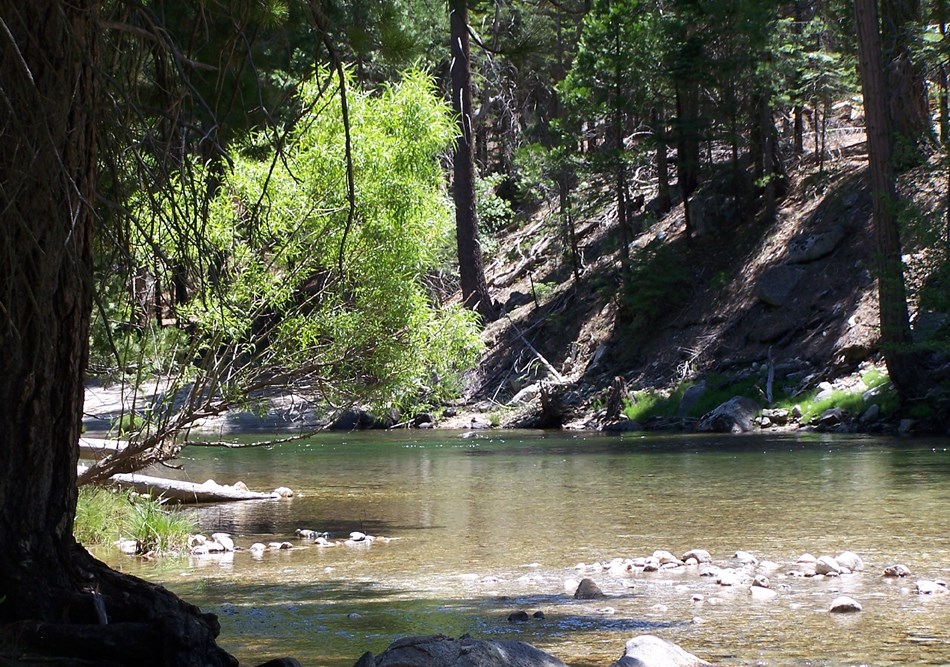 There's a road that not too many people know about: the River Road in Cedar Grove. This one-lane dirt road winds through the forest and parallels the Kings River. It requires high clearance, so vehicle traffic tends to be light. This makes it a great place to ride your bike, walk, or run.
It's also a good spot to walk your leashed pet, as pets are not allowed on park trails. Since this is a dirt road that is open to vehicle traffic, your dog is welcome to come along!
The road will take you through a mixed conifer forest, and will give you views of towering granite cliffs and the south fork of the Kings River. Wildlife sightings may include birds, black bears, and mule deer. Park your car at the Hotel Creek Trail parking area or, if you're staying at Cedar Grove Village, leave your car and walk or bike towards the Cedar Grove Pack Station. The River Road starts east of the pack station. Take the road for up to five miles and then return the way you came…and you've got a 10-mile round-trip, fairly flat, riverside cruise.
Please ride or walk with safety in mind, and watch for vehicles.