THING TO DO
7 Mile Hiking/Biking Loop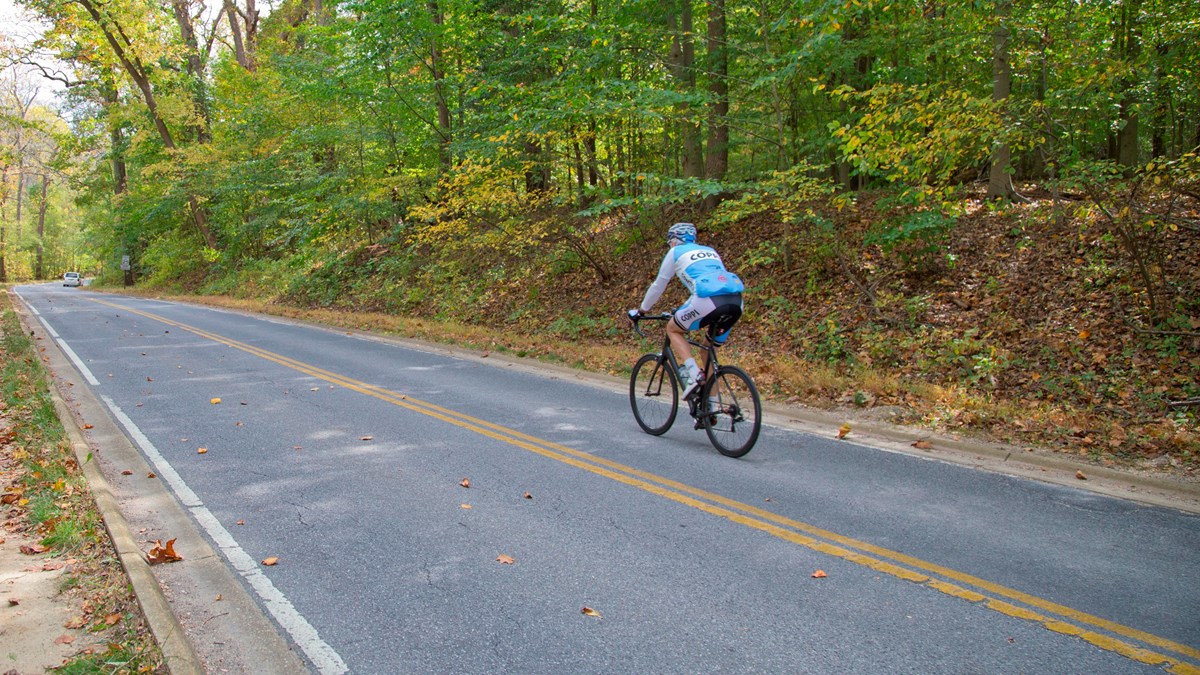 Rock Creek Park is a great place to recreate on foot or bicycle! Bicycles are not allowed on dirt trails and must remain on paved trails and roads. This seven mile circuit invites park visitors to take advantage of the multi-use trail (for pedestrians or cyclists) and closed sections of roadway on Saturdays, Sundays and Holidays.
Start at Picnic Grove #10 along Beach Drive. If the lot at Grove #10 is full, you can start this hike from Picnic Grove 6,7,8, or 9,
Proceed north through the closed gate on foot or on bicycle. (Note: Park roads in yellow on the map are currently closed every day of the week due to the COVID-19 Pandemic, but are normally closed weekends and holidays.)
Turn left onto Wise Road, which is also closed to vehicular traffic and follow it to Oregon Avenue. 
Take an immediate left onto the paved path into the woods (Rock Creek multi-use Trail) and proceed south.
Just before Military Road, take a left onto the paved trail. This path is steep! Proceed slowly and use caution as leaves can make it difficult to get traction on a bicycle.
Follow the paved trail to the right and head towards Beach Drive. 
Walk or ride down Beach Drive enjoying the sound of running water and bird songs. 
Stop at Boulder Bridge and take in the view. This is as far as you have to go, but if you're feeling up to it, you could go all the way to Peirce Mill for a pit-stop. Otherwise, turn around and head back towards the Park Police Substation.
When you get to the gate by the US Park Police Substation, be sure to come to a full stop and cross the roadway with caution. 
At this point, you can either share the road with vehicles or use the multi-use paved trail to the left of the road. While the roadway is open to pedestrians and bicyclists, too, please consider using the paved trail if you travel at a slower pace.
Pets are allowed on trails within Rock Creek Park but must adhere to the B.A.R.K. Ranger Principles. Dogs must always be on a leash within the park. Waste must be carried out and disposed of in trash receptacles.
For more information on B.A.R.K. Ranger visit the 
Pets
 section of the 
National Park Service
 website.
Entrance fees may apply, see Fees & Passes information.
Winter bicycling might be cold. It is possible to encounter snow and ice pack as roadways and multi-use trails are not cleared by snow removal crews. 

In the spring, new growth will be visible on either side of the trail. Spring rains could make the new asphalt slick. If the roads or paths are flooded do not proceed. Please stay on trail and don't ride or walk off the pavement as it impacts the grass and soil and can erode the pathway.

Check for heat and air advisories in the summer and pack plenty of water with you for your trip. Water re-fill stations are available at Picnic Grove #6.  

While bicycling in the autumn is a beautiful escape from the city, damp leaves freshly fallen from the trees can make it difficult to gain traction on a bicycle. Leaves can also hide sharp rocks or broken glass that can damage tires.  
Rock Creek Park is only open from sunrise to sunset. Please plan accordingly. Wear bright, reflective clothing and have a light on if you plan on riding close to dawn or dusk and riding on roads outside of the park.
Accessibility Information
Beach Drive is a two-lane road that winds along the Rock Creek valley floor and parallels the creek. Sections of the road are open to vehicular traffic at times and closed to vehicles at others.  

The multi-use trail is roughly six feet wide universally throughout the park and while level in most places it does have dips and rises following the natural landscape. The most extreme change in elevation is between Oregon Avenue and Beach Drive where it parallels Military Road. We recommend the prescribed route since it will allow visitors to go down this steep section rather than climb up it.  

 
Last updated: January 2, 2021