Lesson Plan
Virtual Field Trip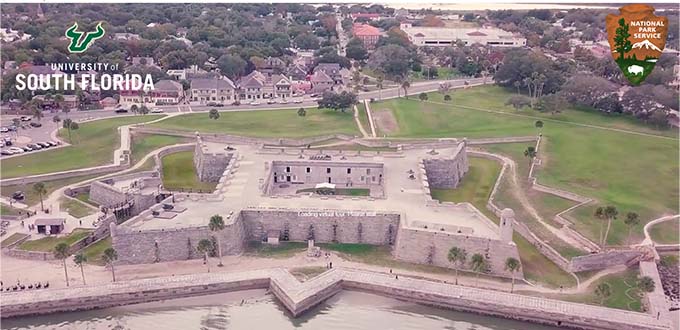 Grade Level:

Upper Elementary: Third Grade through Fifth Grade

Subject:

Literacy and Language Arts,Social Studies

Lesson Duration:

90 Minutes

Common Core Standards:

4.L.1, 4.L.3, 4.L.4, 4.L.4.a, 3.RF.4.c, 4.RF.3, 4.RF.4, 4.RF.4.a, 4.RF.4.c, 4.RI.1, 4.RI.2, 4.RI.3, 4.RI.4, 4.RI.5, 4.RI.6, 4.RI.7, 4.RI.9, 4.SL.1, 4.SL.1.c, 4.SL.1.d, 4.SL.2, 4.SL.3, 4.SL.4, 5.SL.1

State Standards:

FL NGSSS
SS.3.A.1.1
SS.3.A.1.2
SS.3.C.2.1

SS.4.A.1.1
SS.4.A.1.2
SS.4.A.3.1
SS.4.A.3.2
SS.4.A.3.3
SS.4.A.3.5
SS.4.A.3.6
SS.4.A.3.7
SS.4.A.3.9
SS.4.A.3.10
SS.4.A.9.1

SS.5.A.1.1
SS.5.A.1.2
SS.5.A.3.2
SS.5A.3.3
SS.5.A.4.1
SS.5.A.6.6
SS.5.C.2.4
SS.5.C.2.5

Thinking Skills:

Understanding: Understand the main idea of material heard, viewed, or read. Interpret or summarize the ideas in own words. Analyzing: Break down a concept or idea into parts and show the relationships among the parts. Evaluating: Make informed judgements about the value of ideas or materials. Use standards and criteria to support opinions and views.
Essential Question
How can Castillo de San Marcos be used as a primary source to identify St. Augustine's significance?
Objective
Students will analyze primary and secondary sources to identify the significance of St. Augustine by virtually exploring the Castillo and answering the discussion questions.
Background
Review the Virtual Field Trip before assigning to students. Please plan on downloading the virtual field trip before sharing with the students. The "Download" function appears in the upper left corner once you open the link. This reduces the lag time and create a more user-friendly experience. 

 
Preparation
Prepare your students with background information on early Native American life and later European exploration of the Americas.
Provide relevant vocabulary terms. 
Lesson Hook/Preview
Play a music video created by a teacher to inspire students to learn more about St. Augustine, Castillo de San Marcos: Where History Comes to Life. 
Procedure
Explore the Virtual Field Trip to experience St. Augustine's rich history. 
Use the discussion questions to assess student understanding of the social studies content and application of reading and speaking skills.
Vocabulary
Primary source- an original or first-hand account from people who had a direct connection with it (examples: artifact, diary, photograph, autobiography, video, newspaper)
Secondary source- gives information about a primary source (examples: text book, biography, documentary, article or website written about the topic) 
Artifact: an object made by a human being (examples: structures, tools, pottery, weapons, jewelry, metal objects) 
Assessment Materials
Students will demonstrate comprehension and skills by answering the discussion questions included in virtual field trip. 
Why is St. Augustine significant? 
Why can the fort be considered an artifact?
How important are primary sources, like Castillo de San Marcos, when it comes to learning about the past?
In your opinion, does the fort symbolize human determination, conquest, conflict between nations, ingenuity, or cultural diversity? Justify your answer.
Why do you think the fort should be preserved?
As a citizen, what are your duties or responsibilities at the Castillo or in other national parks?


To meet additional curriculum standards, access the DBQ Essay: Effects of Spanish Rule lesson plan. 
Supports for Struggling Learners
Work with your exceptional student education or special education teachers to modify the virtual experience and discussion questions to the specific needs of your students with different abilities. 
Enrichment Activities
Related Lessons or Education Materials
Contact Information
Email us about this lesson plan
Last updated: March 15, 2023