For Kids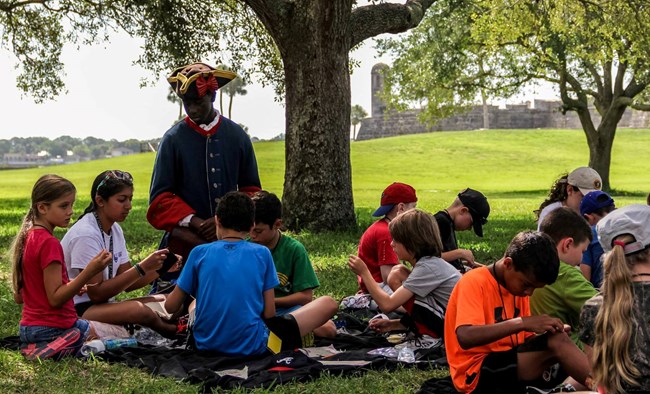 2020 Summer Camp Dates
June 1-5 Fort Matanzas Camp
June 8-12 Fort Matanzas Camp
June 15-19 Castillo de San Marcos Camp
June 22-26 Castillo de San Marcos Camp
Find Your Park this summer at Castillo de San Marcos National Monument! There's no better way to experience of the National Park Service, than by joining us at Hands-on-History Camp!
Camp is Monday-Friday, 9:00 am - 1:00 pm. Park Rangers, Teacher-Ranger-Teachers from St. Johns County, and knowledgeable volunteers engage campers ages 9-11 with interactive presentations, hands-on projects, games, living history demonstrations, and experiences with the natural world. Camp topics vary, but generally include sections about archeology, Native Americans, nature, Spanish exploration, colonial Florida, preservation, Spanish military. \ Last summer we experimented with pyrotechnology, explored the fort, practiced musket drills, launched a trebuchet, and more! Campers created many unique take-home items, such as a dyed t-shirt, clay pot, journal, and an arrowhead necklace.
Registration begins May 1.

Call 904-829-6506 ext. 227

to reserve your spot,

between 8:00 am- 4:00 pm. Space is limited.

Messages left on voicemail will be returned in the order they were received. In your message, please state that you are calling about camp and leave only your name and phone number.

The cost for camp is a nonrefundable fee of $25. If this fee is a financial hardship on your family, contact the Camp Director to learn about our scholarship program.
---
Every Kid Outdoors
Fourth graders and their families will be able to gain free admission, good for a year, to fee-collecting parks, public lands, and waters. Please visit

https://everykidoutdoors.gov/index.htm

for more information.
---
Buddy Bison
Hey Kids! Have you met Buddy Bison? Click here and discover the parks Buddy Bison has visited

buddybison.org/


Last updated: March 25, 2020