Kids & Youth
There are a lot of things for kids to do at Castillo de San Marcos National Monument. You can explore the fort's lower rooms, the fort's historic weapons, and the upper gun deck. Meet rangers, volunteers, or costumed soldiers who can share stories about the park and answer your questions. Children also enjoy walking the outside perimeter where you can experience the moat, water battery, and use the north boardwalk. The open, grassy 20 acres the fort sits on makes a great place for picnicking or kite flying on the north lawn.

Become a Junior Ranger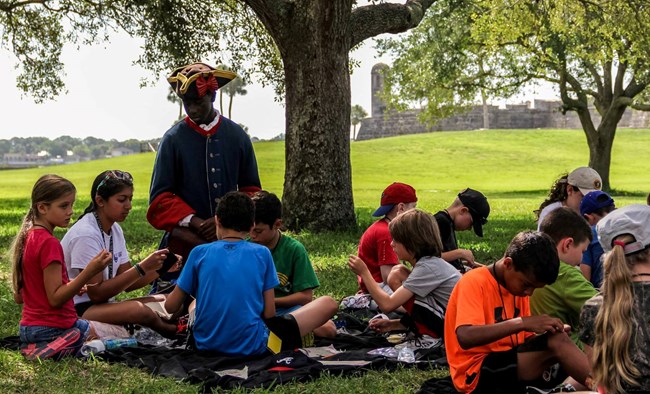 The health and safety of children attending camp is our number one priority. Due to the coronavirus (COVID-19) situation, the park is not hosting 2021 camps.

Find Your Park at Castillo de San Marcos National Monument! There's no better way to experience of the National Park Service, than by joining us at Hands-on-History Camp! Camp is Monday-Friday, 9:00 am - 1:00 pm. Park Rangers, Teacher-Ranger-Teachers from St. Johns County, and knowledgeable volunteers engage campers ages 9-11 with interactive presentations, hands-on projects, games, living history demonstrations, and experiences with the natural world. Camp topics vary, but generally include sections about archeology, Native Americans, nature, Spanish exploration, colonial Florida, preservation, Spanish military. Last summer we experimented with pyrotechnology, explored the fort, practiced musket drills, launched a trebuchet, and more! Campers created many unique take-home items, such as a dyed t-shirt, clay pot, journal, and an arrowhead necklace.

Camp information is announced in March, registration is in April, and camps are in June. Stay connected through our website and follow us on social media for 2022 camps.
Fourth graders and their families will be able to gain free admission, good for a year, to fee-collecting parks, public lands, and waters. Please visit
Every Kid Outdoors
for more information.
National parks are great places to explore anything kids can imagine. Go on an outdoor adventure. Walk in the footsteps of famous people. Take in unique scenery. Explore new interests. But most of all, national parks are places where you can have fun and create memories that last a lifetime. Click
here
to learn about real places you can experience and online opportunities.
Hey Kids! Have you met Buddy Bison? Click
here
and discover the parks Buddy Bison has visited!
Castillo's Online Activities for Kids
NPS Online Activities for Kids


Last updated: April 1, 2021