Kids & Youth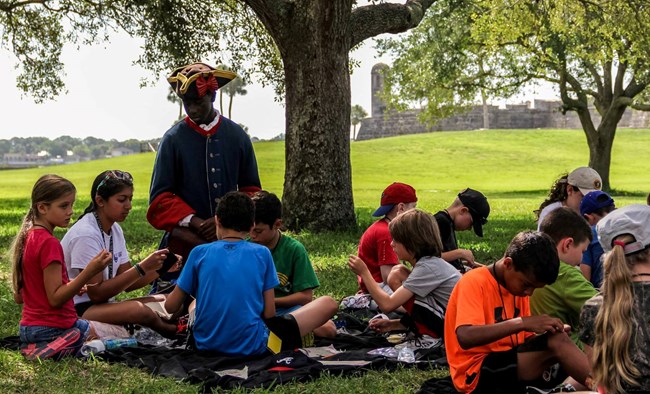 There are a lot of things for kids to do at Castillo de San Marcos National Monument. You can explore the fort's lower rooms, the fort's historic weapons, and the upper gun deck. Meet rangers, volunteers, or costumed soldiers who can share stories about the park and answer your questions. Children also enjoy walking the outside perimeter where you can experience the moat, water battery, and use the north boardwalk. The open, grassy 20 acres the fort sits on makes a great place for picnicking or kite flying on the north lawn. Explore the Map, download the App, or experience the Virtual Tour.
Become a Junior Ranger
You can complete the Castillo de San Marcos Junior Ranger activity book and earn a physical badge and patch. You can also work through the Virtual Junior Ranger online and earn a digital badge.
Education
From field trips to online programs, Fort Matanzas provides learning adventures for students and teachers throughout the world.
Every Kid Outdoors
Fourth graders and their families will be able to gain free admission, good for a year, to fee-collecting parks, public lands, and waters. Please visit Every Kid Outdoors for more information.
Kids in Parks
National parks are great places to explore anything kids can imagine. Go on an outdoor adventure. Walk in the footsteps of famous people. Take in unique scenery. Explore new interests. But most of all, national parks are places where you can have fun and create memories that last a lifetime. Click here to learn about real places you can experience and online opportunities.
Buddy Bison
Hey Kids! Have you met Buddy Bison? Click here and discover the parks Buddy Bison has visited.
Castillo's Online Activities for Kids
NPS Online Activities for Kids


Last updated: March 16, 2023