Distance Learning
The Science of Sled Dogs
Grade Level:

Upper Elementary: Third Grade through Fifth Grade

Subject:

Science

State Standards:

National Science Education Standards/Framework
LS3.A , LS3.B, LS4.C

Next Generation Science Standards
3-LS3-1, 3-LS3-2, 3-LS4-2, 4-LS1-1, 5-ESS3-1
Background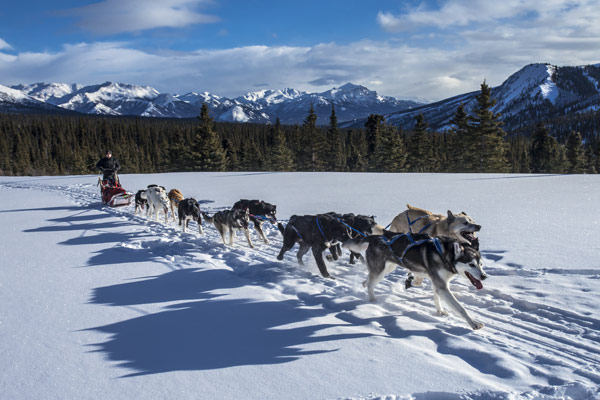 Denali National Park and Preserve hosts the US government's only dog-sled team. It can be hard to get here, but you can bring Denali into your classroom instead!
The education staff at Denali can visit your classroom for free via the internet. Using a Zoom videoconferencing connection, Denali becomes just a click away. Once connected, our staff will spend an hour teaching your class about Denali's amazing natural resources using interactive lessons and activities. Please contact the Denali education team if you have questions about other videoconferencing platforms.
Program Length
Pre-conference activity takes about 1 hour, Conference runs ~ 60 minutes
Additional Resources
Many of our other videos and interactive features are worth sharing with your classroom. Check out our panoramic images to get a taste of what being in the park is like.
How to Participate
Registration begins on October 8th. Spaces are limited and registration is handled on a first-come, first-served basis. 

Register using this printable form.

Our free, interactive presentations are available from November 1 through March 31 (with breaks around some major holidays).

Note: Please be aware that Alaska is in the Alaska Time Zone (AKST) and follows daylight savings time changes. Programs cannot start any earlier than 7 am in the Alaska Time Zone, which means programs for schools in Eastern Time cannot start before 11 am, Central Time 10 am, Mountain Time 9 am, and Pacific Time 8 am. Please consider this when listing your available times on the registration form.
Materials
Download Sled Dogs Teacher's Guide
Download Sled Dogs Student Reading
Last updated: September 3, 2020