Lesson Plan
Routes West 1800-1849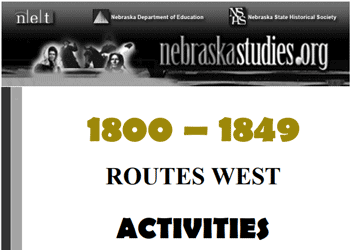 Grade Level:

Middle School: Sixth Grade through Eighth Grade

Subject:

Social Studies

Lesson Duration:

90 Minutes

State Standards:

See state standards.

Additional Standards:

See district standards.
Objective
This lesson plan includes mapmaking, class discussions, image and writing analysis. Students have the opportunity to learn about the Mormon Pioneer and Oregon Trail through the NebraskaStudies.org site. Here, they will be able to access primary and secondary source documents, as well as a timeline of events on the trail.
Background
From 1846 to 1869 more than 70,000 Mormons traveled along the Mormon Pioneer Trail. Generally following pre-existing routes, the trail carried tens of thousands of Mormon emigrants to a new home and refuge in the Great Basin. From their labors arose the State of Deseret, later to become Utah Territory, and finally the state of Utah.
See the lesson plan: http://www.nebraskastudies.org/0400/resources/04west.pdf
Preparation
See lesson plan.
Materials
Lesson Hook/Preview
See lesson plan.
Procedure
See lesson plan.
Vocabulary
See lesson plan.
Contact Information
Last updated: September 18, 2017