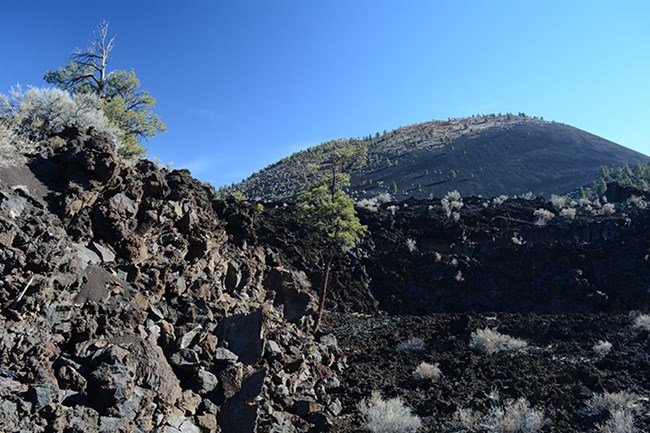 Volcanoes and Lava Flows
Sunset Crater Volcano National Monument preserves two volcanoes. The first is the park's namesake, a 1000-foot-tall (305 m) cinder cone that erupted sometime around 1085 CE. The second is Lenox Crater Volcano, another cinder cone that is much older. Lenox Crater Volcano is approximately 300 feet or 91 meters tall.
Cinder cones form when runny basalt magma is mixed with water beneath the ground. As the rock-water soup reaches the surface of the earth, the water flashes into steam, causing the liquid rock to explode from the ground. When Sunset Crater Volcano erupted, it created a curtain of fire 850 feet (259 m) tall! For comparison, the Statue of Liberty is only 305 feet (93 m) tall.
As these tiny bits of lava cooled off, they fell back to earth as tiny rocks called cinders or lapilli. These cinders piled up around the volcano's vent, creating a cone-shaped pile we know today as Sunset Crater Volcano.
Along with the explosion of cinders, the volcano ejected larger chunks of material called lava blocks and lava bombs. And even more lava poured over the land to create the Bonito and Ka'naa lava flows. This slow-moving liquid rock cooled and hardened on the surface, but the liquid lava underneath it broke through, only to cool and dry again. Over and over, this repeated process created the jagged landscapes of a'a lava seen today.
Sunset Crater Volcano's eruption incinerated the landscape. For over 400 years, the area surrounding the volcano was barren, sterile, and utterly devoid of plant life. The first plants did not return until around 500 years ago. The land you see today is an outdoor laboratory, teaching geologists and biologists about the recovery of plants and forests after volcanic events.