New York Field Office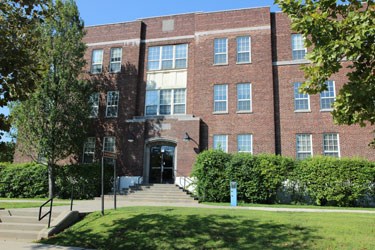 The New York Field Office is responsible for the law enforcement functions in the Jamaica Bay and Staten Island Units of the Gateway National Recreation Area (GNRA), as well as at the Statue of Liberty/Ellis Island National Historic Site. Headquartered on Fort Wadsworth in Staten Island, New York, the U.S. Park Police has served at GNRA since its inception in 1974.
Fort Wadsworth National Historic Site on Staten Island became part of the GNRA in 1994. The site also houses several military and DOD agencies, to include the United States Coast Guard and United States Army. There is a large military housing area that is patrolled jointly with the U.S. Coast Guard Police. Patrol operations are divided, with the Jamaica Bay Unit located on Floyd Bennett Field in Brooklyn and the Staten Island Unit in Fort Wadsworth.
Widely diversified methods to patrol these areas, to include cruisers, horses, boats, motorcycles, and bicycles, are necessary to cover the roadways, beaches, recreation fields, waterways, and wooded areas that make up the zones of patrol. Riis Park in Rockaway, Queens and Great Kills Park in Staten Island are two heavily visited major beaches located within GNRA.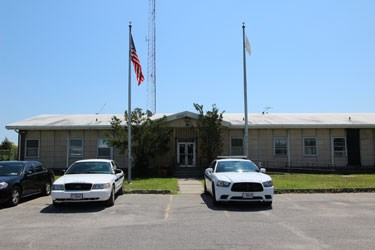 The Horse Mounted Unit provides patrol coverage in both the Staten Island Unit and Brooklyn-Queens District. Horse mounted patrols are also utilized for festivals and special events. The Unit also marches in many local parades.
The Criminal Investigations Unit investigates many different types of incidents and includes the Street Crimes Unit, which patrol in "plain clothes" in our parks. The Special Weapons and Tactics (SWAT) Team is composed of officers and supervisors with specialized training, ready to respond to any type of incident.
The U.S. Park Police was asked to assume law enforcement and security operations at the Statue of Liberty and Ellis Island in 1995. Prior to 1995 and since then, there have been several events that have caused changes in the security posture and amount of U.S. Park Police personnel assigned to this park. The attacks of September 11, 2001, caused the biggest change to our operation, and resulted in off-site airport style screening of all visitors planning to visit the Park, a full-time 24/7 Marine Unit Operation, as well as a significant increase in sworn personnel. The Statue of Liberty currently receives about 4.3 million visitors each year and that number is expected to increase with recent changes to security operations and enhancements to the Statue of Liberty itself.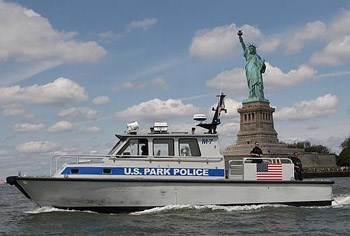 The U.S. Park Police patrols both Ellis and Liberty Islands with foot patrols, bicycle patrols and electric vehicles. Because of its prominence as an Icon and tourist attraction, the Statue of Liberty and Ellis Island have been the location for several high profile movies and also some very large media events. There have been several Presidential visits to both Islands, as well as other Heads of State visits. Security for these events is also managed by the U.S. Park Police in conjunction with many of our partnering state, local, and federal agencies.
Last updated: March 15, 2020