Special Weapons and Tactics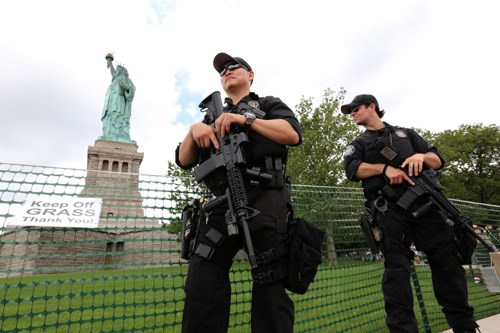 The United States Park Police's Special Weapons and Tactics Team (SWAT) has been in existence since 1975. This highly trained team is proficient with a variety of weapons including the submachine gun, assault rifle, sniper rifle, and less lethal weaponry. The SWAT Unit conducts high-risk search warrants for the USPP Narcotics and Vice Unit, as well as for allied Federal, State, and local agencies.
SWAT provides vehicular escorts for the President, Vice President, and other dignitaries as requested by the United States Secret Service and other law enforcement agencies. SWAT is responsible for the many demonstrations in the National Capital Region and supports the Operations Division on high-risk incidents on National Park Service property, to include the 2012 successful resolution of the armed barricaded subject at Belle Haven Marina who opened fire on a Coast Guard helicopter. SWAT has also supported the region in numerous high-risk incidents. Most recently, the SWAT Unit responded to the Washington Navy Yard to assist in stopping an active shooter on September 16, 2013.
The New York Field Office has a dedicated SWAT Unit that provides a tactical response throughout the New York Field Office and support patrol operations at the Statue of Liberty National Monument. The NYFO SWAT Unit is utilized for high-profile escorts and protection details for the President of the United States, foreign Heads of State, and other Government Officials visiting the New York City metropolitan area. NYFO SWAT routinely works with partnering tactical teams and protection details from numerous Federal, State and local police agencies. NYFO SWAT most recently provided tactical support for the Occupy Wall Street demonstrations, the President's visit after Hurricane Sandy, 2013 Presidential Inauguration in Washington, DC, and the New York City Marathon.
Over the years, USPP SWAT operators have trained numerous members of Department of the Interior law enforcement personnel and outside agencies in crowd control and dynamics, active shooter response, basic tactics, and mixed martial arts. SWAT members have done static displays for visiting police departments from around the world. In conjunction with the Health and Human Services (HHS), SWAT has trained thousands of personnel from police departments, military units, and fire departments from the United States and abroad in Tactical Emergency Medicine.
SWAT conducts basic SWAT schools, which are routinely attended by officers from outside departments. The physically and mentally challenging course is designed to take police officers and train them to handle high-risk situations working in a team environment.
The SWAT Unit has a proud history and a challenging future. Although there are time-tested tactics that remain the same, new tactical methods and technology continue to evolve that have improved SWAT operations. The SWAT Unit will continue to push towards the cutting edge and break ground for new innovative ways to safely and effectively protect the visitors to our National Icons.
Last updated: October 15, 2015