Marine Unit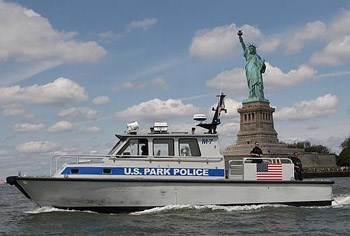 The Marine Patrol Unit operates at two locations in the New York Field Office. One unit operates at the Liberty District located in the New York Harbor and covers the waters around the Statue of Liberty and Ellis Island. The primary role at this location is to support the safety and security mission of the U.S. Park Police. This includes the enforcement of a 150-yard security zone around each island in the Harbor.
The second unit covers the waters of Jamaica Bay which encompasses 39 square miles of water around Brooklyn and Queens, and is bordered by JFK International Airport. This Unit provides various services to include law enforcement, security patrols of the airport, marine assistance, search and rescue missions, as well as boating accident investigation.
The Marine Unit in New York maintains several vessels in its fleet that are up to 44 feet in length and range from outboard engines to inboard diesel engines with jet propulsion.
Last updated: October 15, 2015