Event Details
Freedom's Friends Tablet Tour FREE in February (Oberlin, OH)
Ohio
February 1 - 28, 2017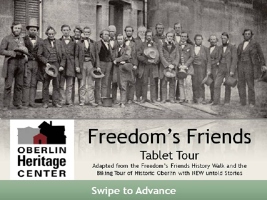 In Honor of Black History Month
Borrow a user-friendly iPad from the Heritage Center to explore the community's abolitionist and Underground Railroad history any Tuesdaythrough Saturday between 10 a.m. and 3 p.m.throughout the month of February.  The tablet tour allows participants to move at their own pace through town and campus while learning about local landmarks and discovering new stories of sacrifice and freedom that occurred in and around historic Oberlin.  The main tour covers about a mile with an option to go farther afield (within Oberlin) on foot or by car for those who wish to do more in-depth exploration.  Too cold for an outdoor adventure?  The tablet tour can be just as engaging when browsed from the warmth of a favorite armchair.  A credit card is required to secure the loan of the tablet, but no user fees will be charged.

Find out more.

Reserve a tablet for your tour.
 
Contact Person: Oberlin Heritage Center
Contact Information: 440-774-1700 (main phone) / tourinfo@oberlinheritage.org