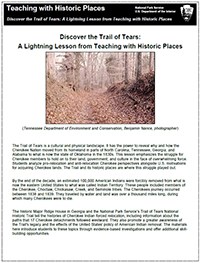 Contents
| Introduction
| Where it Fits Into the Curriculum (Objectives and Standards)
| Materials in the Lesson (Readings, Maps, Visual Evidence)
| Post-Lesson Activities
| More Resources
| About
What were the consequences of the Indian Removal Act of 1830?
What historic place might you study to answer this question?
By the end of the 1830s, the U.S. government forced or coerced an estimated 100,000 American Indians to move from their homelands in the southeast to distant Reservations. These people included members of the Cherokee, Choctaw, Chickasaw, Creek, and Seminole Nations. They traveled many different paths, but share a story. The Trail of Tears today is a cultural and physical landscape that tells that story. It has the power to teach why and how the majority of people from these Nations moved from their homes in parts of North Carolina, Tennessee, Georgia, and Alabama to Indian Territory in present-day Oklahoma.

This lesson emphasizes the struggle for Cherokee members to hold on to their land, government, and culture in the face of overwhelming pressure. The Cherokee Nation's journey occurred between 1838 and 1839. In this lesson, students investigate a complicated story about how indigenous people negotiated through law and culture to preserve their identities. They will analyze pro-relocation and anti-relocation perspectives.

The historic Major Ridge House in Georgia and the National Park Service's Trail of Tears National Historic Trail tell the histories of Cherokee Indian forced relocation. At a time when the Cherokee struggled to keep their nation in the east, a Cherokee leader named Major Ridge supported moving west. Historic places like the Major Ridge House provide evidence of Cherokee experiences and of the United States' policy of American Indian removal. The materials here introduce students to these topics through evidence-based investigations and skill-building exercises.