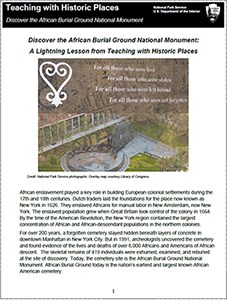 Contents
| Introduction
| Materials in the Lesson (Maps, Readings, Visual Evidence)
| Post-Lesson Activities
| Where it Fits Into the Curriculum (Objectives and Standards)
| More Resources
| About
How do Americans show respect for the bodies and memories of the deceased?
African enslavement played a key role in building European colonial settlements during the 17th and 18th centuries. Dutch traders laid the foundations for the place now known as New York in 1626. They enslaved Africans for manual labor in New Amsterdam, now New York. The enslaved population grew when Great Britain took control of the colony in 1664. By the time of the American Revolution, the New York region contained the largest concentration of African and African-descendant populations in the northern colonies.

For over 200 years, a forgotten cemetery stayed hidden beneath layers of concrete in downtown Manhattan in New York City. But in 1991, archeologists uncovered the cemetery and found evidence of the lives and deaths of over 8,000 Africans and Americans of African descent. The skeletal remains of 419 individuals were exhumed, examined, and reburied at the site of discovery. Today, the cemetery site is the African Burial Ground National Monument. African Burial Ground today is the nation's earliest and largest known African American cemetery.