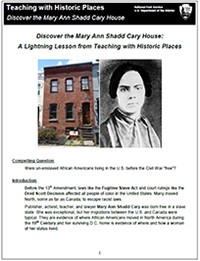 Contents
| Introduction
| Materials in the Lesson (Maps, Readings, Visual Evidence)
| Post-Lesson Activities
| Where it Fits Into the Curriculum (Objectives and Standards)
| More Resources
| About
Were free African Americans, living in the United States before the Civil War, truly "free"

?
Before the 13th Amendment, laws like the Fugitive Slave Act and court rulings like the Dred Scott Decision affected all people of color in the United States. Many moved North, some as far as Canada, to escape racist laws.

Publisher, activist, teacher, and lawyer Mary Ann Shadd Cary was born free in a slave state. She was exceptional, but her migrations between the U.S. and Canada were typical. They are evidence of where African Americans moved in North America during the 19th Century and her surviving D.C. home is evidence of where and how a woman of her status lived.