African Americans and the War of 1812 on Tangier Island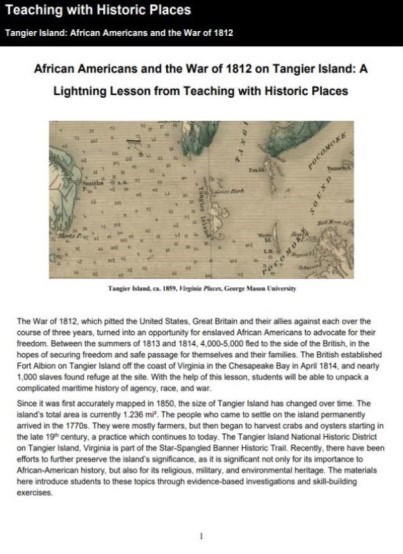 Introduction
What motivated enslaved African Americans to volunteer to fight in the War of 1812?
What historic place might you study to answer this question? Why?
The War of 1812, which pitted the United States, Great Britain and their allies against each over the course of three years, turned into an opportunity for enslaved African Americans to advocate for their freedom. Between the summers of 1813 and 1814, 4,000-5,000 fled to the side of the British, in the hopes of securing freedom and safe passage for themselves and their families. The British established Fort Albion on Tangier Island off the coast of Virginia in the Chesapeake Bay in April 1814, and nearly 1,000 slaves found refuge at the site. With the help of this lesson, students will be able to unpack a complicated maritime history of agency, race, and war.
Since it was first accurately mapped in 1850, the size of Tangier Island has changed over time. The island's total area is currently 1.236 mi². The people who came to settle on the island permanently arrived in the 1770s. They were mostly farmers, but then began to harvest crabs and oysters starting in the late 19th century, a practice which continues to today. The Tangier Island National Historic District on Tangier Island, Virginia is part of the Star-Spangled Banner Historic Trail. Recently, there have been efforts to further preserve the island's significance, as it is significant not only for its importance to African-American history, but also for its religious, military, and environmental heritage. The materials here introduce students to these topics through evidence-based investigations and skill-building exercises.
This lesson is based on the National Register of Historic Places registration files for Tangier Island and other sources.
It was published in October 2018. This lesson was first written in 2018 by Porsha Dossie, a public historian and National Council for Preservation Education (NCPE) intern. It was edited by Park History Program and Teaching with Historic Places staff. This lesson is one in a series that brings the important stories of historic places into classrooms across the country.
Objectives
Students will be able to discuss some of the factors that shaped slave resistance, and how larger world events might impact the decisions of individuals.
Discuss strategic British military operations launched from the base at Tangier Island and describe Fort Albion on the island in relation to the experiences of the enslaved African Americans who traveled there.
Identify and describe why some African Americans decided to volunteer to fight during the War of 1812, and present their findings as a class.
Materials Found in the Full Lesson
The materials listed below can either be used directly on the computer, projected on the wall, or printed out, photocopied, and distributed to students.
Getting Started: Inquiry Question
Locating the Site: Map
Map 1: British Advances from Tangier Island
Determining the Facts: Readings
Reading 1: Cochrane's Proclamation (1814)

Reading 2: Fighting for Freedom: African Americans and the War of 1812
Star-Spangled Banner Historic Trail Map

American Antiquarian Society Political Cartoon
Putting It All Together: Activities
Activity 1: Fort Albion on Tangier Island

Activity 2: The Life and Times of Charles Ball

Activity 3: Community Service: Investigate Historic Preservation Efforts in Your Community
Where this lesson fits into the curriculum
Topics:
This lesson could be used in American history, social studies, government, and civics courses in units on the War of 1812 and the early Federal period, African-American history, and on American political history.
Time period:
Early 19th century
Relevant Curriculum Standards for Social Studies
This lesson relates to the following Curriculum Standards for Social Studies from the National Council for the Social Studies:
Theme I: Culture
Theme II: Time, Continuity, and Change
Theme III: People, Places, and Environments
Theme IV: Individual Development and Identity
Theme V: Individuals, Groups, and Institutions
Theme VI: Power, Authority and Governance
Theme IX: Global Connections
Theme X: Civic Ideals and Practices
Relevant Common Core Standards
This lesson relates to the following Common Core English and Language Arts Standards for History and Social Studies for middle and high school students:
Key Ideas and Details
CCSS.ELA-LITERACY.RH.6-8.2
Craft and Structure
CCSS.ELA-LITERACY.RH.6-8.6
Integration of Knowledge and Ideas
CCSS.ELA-LITERACY.RH.6-8.9
Range of Reading and Level of Text Complexity
CCSS.ELA-LITERACY.RH.6-8.10
More Online Resources
National Park Service, Tangier Island
The National Park Service's article (website) on Tangier Island gives a brief overview of the island history and significance.
National Register of Historic Places, Tangier Island
The National Register of Historic Places (website) is the official list of the Nation's historic places worthy of preservation. Authorized by the National Historic Preservation Act of 1966, the register is part of a national program to coordinate and support public and private efforts to identify, evaluate, and protect America's historic and archeological resources. This entry is for the Tangier Island Historic District.
The Historical Marker Database
The Historical Marker Database (website) is an illustrated searchable online catalog of historical information on roadside and other permanent outdoor markers, monuments, and plaques. It contains photographs, inscription transcriptions, marker locations, maps, additional information and commentary, and links to more information. This entry provides information on Fort Albion, the British base of operations on Tangier Island during the War of 1812.
Star-Spangled Banner National Historic Trail
The Star-Spangled Banner National Historic Trail (website) is a 290-mile trail stretches from Maryland, the District of Columbia, and Virginia. The landscape of the trail includes the Potomac, Patuxent, and Patapsco Rivers and the shores of the Chesapeake Bay, along rural roads in Southern MD and on the Eastern Shore at Caulk's Field and Tangier Island, provides opportunities for the public to stand in places that look much as the British and Americans saw them almost 200 years ago.
The Civil War Trust
For more information on black soldiers who served as Colonial Marines during the War, Percoco's article serves as a concise, yet informative primer for students and general audiences (
website).
"Freedom Bound"
Historic Annapolis (
website
)
is the leading nonprofit preservation and history organization in Annapolis, Maryland. The videos included in "Freedom Bound," give voice to the enslaved through performances from actors who reenact the lives of enslaved individuals from the Chesapeake region during the late 18th and 19th centuries.
Norfolk Public Library
The Norfolk, Virginia public library (website) created an extensive annotated bibliography with both nonfiction and fiction titles for adults and children. This is a helpful resource for teachers and librarians looking to incorporate these materials in the classroom.
Last updated: April 10, 2019