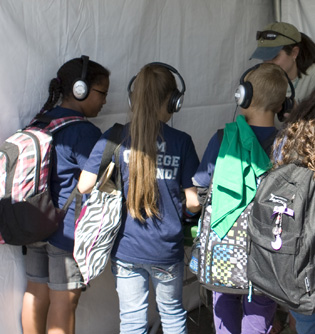 The
Interpretive Handbook
[2MB PDF] will help you get started on teaching soundscapes! This page describes how the Natural Sounds Program is working to teach youth about soundscapes and provides a variety of soundcape activities that teachers can use to educate students of all ages. For introductory materials on the Natural Sounds Program, please visit our
Additional Resources
page.
Example Soundscape Activities
Click on an activity below for instructions.
Soundscape Curriculum
Developed in collaboration with Global Explorers, this curriculum includes Arizona science standards.
Soundscape Interpretive Programs Used at Parks
Click on an interpretive program below for instructions.
Teaching Youth through Educational Travel
Through a partnership with
No Barriers Youth
, the National Park Service Natural Sounds and Night Skies Division is educating a diverse group of youth and educators nationwide in the management and understanding of soundscapes. Through educational activities conducted in classrooms and on expeditions around the world, they inspire an appreciation of natural and cultural resources, a connection to the natural world, and a commitment to environmental stewardship.
Students have traveled on expeditions to Grand Canyon National Park, Canyon de Chelly National Monument, and the Peruvian Amazon. Each expedition includes sound-related activitIes and experiments aimed at increasing knowledge and understanding of the importance of sound and the acoustical environment in national parks and their everyday lives.
This partnership was awarded the 2012 Partners in Conservation Award by the U.S. Department of the Interior for outstanding achievements in youth stewardship and engagement.