No Barriers Youth Lead the Way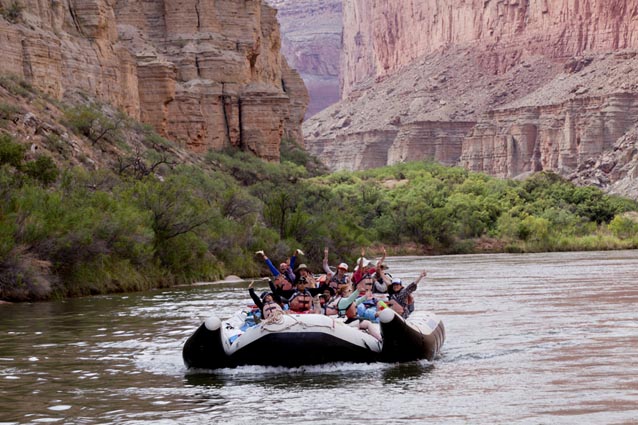 The rush of rafting the Colorado River into the heart of Grand Canyon is the kind of adventure that makes leaders of even the faint of heart. The senses tune to place, and courage is summoned. This challenge is met by students participating in No Barriers Youth Leading the Way — a Grand Canyon summer expedition for teenagers ages 15 to 19 to experience the thrill of the wild. Sponsored by the National Park Service Natural Sounds and Night Skies Division, the program is unique from similar outdoor programs for teens because it serves blind, visually impaired, and deaf and hard of hearing teens as well as sighted youth.  All of the young leaders demonstrate that barriers can be dissolved with help from friends and Mother Nature.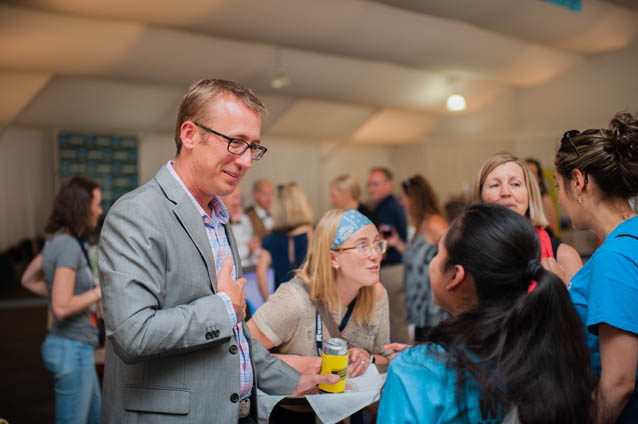 When David Shurna co-founded No Barriers Youth (NBY) in 2003 (with Julie Dubin), he was guided by the life-changing memories of his own travel outings in nature, and wanted to provide similar, enriching opportunities for middle and high school youth. What began as a summer with four groups traveling has grown to 56 expeditions in 2017 for youth in diverse places around the world, from the Amazon in Peru to the mountains of Costa Rica and the desert of the Southwest.
The Leading the Way program was started in 2006 after David met Erik Weihenmayer, a blind mountaineer renowned for climbing the Seven Summits of the world, including Mount Everest.
"Together we dreamed up a program combining kids with and without disabilities that would shatter perceptions of what is possible. It's amazing to think that we're now serving more than 3,000 people per year on transformative experiences, and we're reaching people from all walks of life," David said. 
With role models like Erik on board, the program is a powerful tool for forging confidence and leadership among participating youth.
As Hannah, a Leading the Way participant from the 2015 program said, "You truly allowed for me to see that 'what's within you is stronger than what is in your way.'"
The No Barriers Warriors program, started in 2012, extends these opportunities to veterans.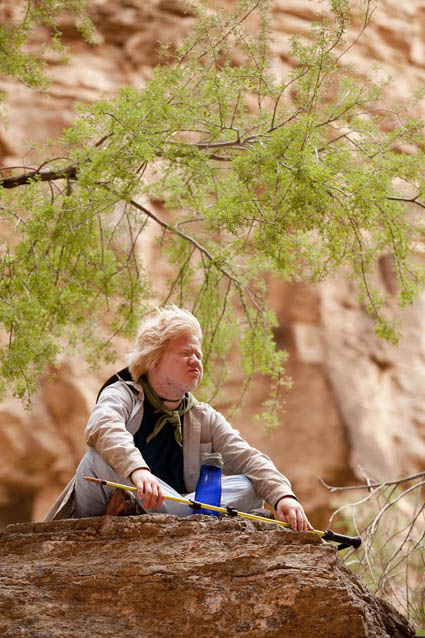 In the National Park Service, the Natural Sounds and Night Skies Division works to raise awareness on the value of starry night skies and natural sounds unique to park spaces, and protect these resources from light and sound pollution. As a sponsor to the Grand Canyon Leading the Way program, the division helps shape the curriculum, introducing nights skies and natural sounds exercises designed to enhance the outdoor experience. Representatives from this team join teens on hiking, climbing, rafting and camping outings to put the concepts in action.
One such sound activity engages visually impaired, blind and sighted youth in a deep listening exercise:
Imagine that you and others in your group are resting on the riverbank of the Colorado River after an adventurous hike on Bright Angel Trail. You've chosen a solitary spot in the shadow of the sheer canyon walls that surround you. A hawk circles overhead, and the water dances downstream under a clear blue sky. Only — you can't see any of this because you are blind. But you do hear the hawk. You do hear the swell of water over river rocks. You smell the sage, and the sand beneath your fingers is cool to the touch. The moment provides solace and contemplation.
Teens are encouraged to write down their observations, record the sounds heard, or simply sit in silence and be. Afterwards, the group shares what they heard and how they felt about the activity. A participant had this to say about the experience:
"I have a hard time putting into words what that experience was," he said. "But it was an experience, a journey, amazement. It was just a moment where I felt so vulnerable because I was at such peace. … I'm here right now at this amazing place and I'm listening.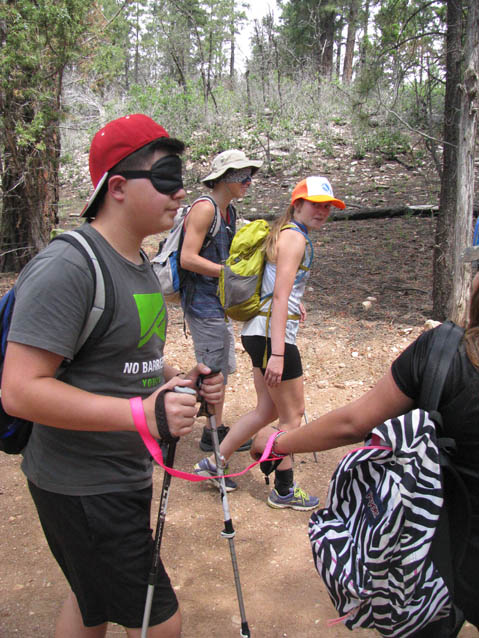 Ecologist Katie Nuessly from the Natural Sounds and Night Skies team, who joined the group in the summer of 2016, said the sound exercises create a quiet space for students to hear nuances of sound unfolding in the natural environment, and connect with all their senses.
"Most of the students have never done an attended listening activity, and they are often surprised by how much sound can be heard in a seemingly quiet environment, whether bird calls and wind, or human-caused sounds such as airplanes," Katie said. "The experience prompts them to think about what silence means to them, and discuss the layers of sounds heard, and also how human-caused sounds in the environment might impact wildlife as well as our own connection to nature."
Katie added that it was great fun to hike with everyone. One particular hike she described gives new meaning to the phrase, "the blind leading the blind," for in this outing, visually impaired students led blindfolded, sighted students on the trail. "Bush on the left!" one student would call to the other, or "Boulder on the right!" Cow bells gave additional auditory clues for direction. Some sighted students opted to hold on to the shoulders of their visually impaired partners. Trekking poles also provided stability as the group advanced along the trail. 
"The experience was amazing because everyone was on equal footing," Katie said. "One student told me that she had never been in the lead before — not only on the trail, but in life — and how empowering the experience had been for her."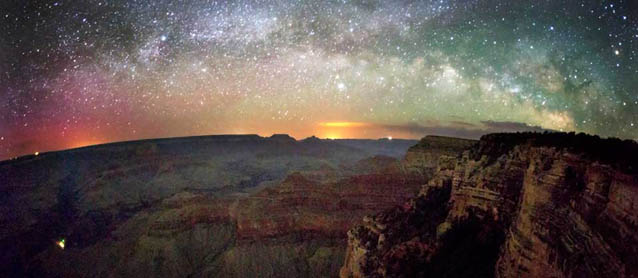 Leading the Way program specialist Kaitlyn Millen, a specialist in both outdoor education and education for the deaf, said that the sound activities are a big hit, as are night sky themed activities, which typically engage students, including deaf and hard of hearing teens, for a night of hiking and stargazing on the South Rim of the canyon.
"Kids are blown away by this experience," Kaitlyn said. "Many of them have never seen the Milky Way clearly, or so many stars at once. The night skies team gave us devices to measure sky brightness in different locations along the rim. It never occurred to students that celestial bodies emit their own light."
When Kelly, a visually impaired student, first heard that her group (2014) was going on a night skies outing, she said she had a bad attitude. "Whatever. Stars. I've never seen them," she said. What Kelly did not know, is that the quality of the night sky at Grand Canyon, a park recognized for its dark night skies, yields no ordinary view to the stars. The sky revealed itself to Kelly that night, and she saw the stars for the first time.
"I could see a bunch of stars. The really bright ones I could see really well," she said. "I didn't know what to say or do for a couple seconds because they were so mind-blowingly beautiful. Hearing about stars and hearing about what people describe them to be is nothing compared to actually seeing them and just having a better understanding of the hugeness of everything. It was amazing."
Kaitlyn said the students come away from these experiences transformed. They compare the spectacular night sky views above the Grand Canyon with those above their homes. For many, light pollution dims this connection. Students learn about light pollution impacts, and why dark night skies are important for healthy ecosystems. They also learn how night sky friendly lighting can easily reverse these impacts.
"They leave inspired to make a difference at home," she said.
Do you know a student who might want to camp, hike, raft, and have the adventure-of-a-lifetime in a National Park? Of course you do! 
Leading the Way is accepting applications from students who are blind, visually impaired and sighted until January 13th for the summer 2017 Grand Canyon expedition. The Natural Sounds and Night Skies Division underwrites much of the program's cost, and opportunities are affordable for students of all backgrounds. Every accepted participant receives a generous scholarship that covers most of the program costs. Help spread the word! Visit the No Barriers Youth website for information and the online application.
Article by Julie West, Communications Specialist, Natural Sounds & Night Skies Division
Last updated: January 9, 2018