About the Author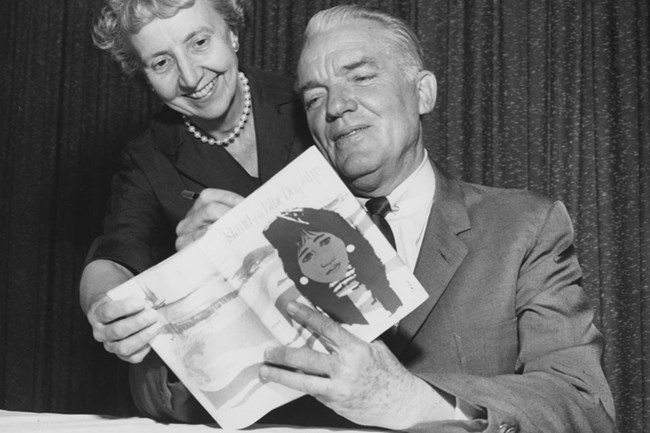 Scott O'Dell was born on May 23, 1898, in Los Angeles, California. His parents, Bennett Mason Scott and May Elizabeth Scott, named their son "Odell." It wasn't until years later, when Odell Scott was an adult, that he reversed the order of his first and last name, becoming Scott O'Dell.
When O'Dell was a young boy, Los Angeles was a relatively small city, not the bustling metropolis it is today. The population of Los Angeles in 1900, in fact, was about 3% of that of New York City. Los Angeles now ranks as the second largest city in the nation, after New York.
O'Dell spent many hours playing in nature and learning about plants, animals, and the ocean. He and his family moved often in order to accommodate his father's job at the railroad. But the Scott family always lived close to Los Angeles, and always close to the ocean.
When O'Dell graduated from high school, the United States was fighting in World War I, so O'Dell entered the military. The war ended before he was sent abroad, however.
O'Dell then began college, studying at a number of different universities but never graduating with a degree. Instead, he took jobs in Hollywood, working for both Paramount Pictures and MGM Studios.
O'Dell learned a lot about screenwriting and storytelling while working in film. When he left Hollywood, it was to begin a career as a writer. At the beginning, writing didn't come easily for O'Dell. He published his first book, a historical novel for adults, in 1934. It is titled Woman of Spain. It took O'Dell more than ten years to write and publish his second book, Hill of the Hawk (1947), and eleven more years to publish his final adult novel, The Sea is Red (1958).
During much of this time, while O'Dell was struggling with writers' block, he also worked as a book review columnist and editor for Los Angeles newspapers. He loved books and he read widely—literature, history, folklore, and psychology. He and his wife Dorsa also led a busy social life. They dressed elegantly and attended, and hosted, many parties where people discussed books and politics.
It was difficult for O'Dell to write with so many friends and distractions around him. In the late 1950s, O'Dell moved to the small gold-rush town of Julian, California. Here O'Dell found quiet and the motivation to write his best work, Island of the Blue Dolphins. He wrote the story of Karana quickly, in less than a year
When the manuscript was complete, O'Dell sent it to friends and to his literary agent. To his surprise, he discovered that what he thought was another historical novel for adults was instead a book well-suited for children. Island of the Blue Dolphins was published by Houghton Mifflin in 1960 and won the 1961 Newbery Medal, the most important award in US children's literature.
O'Dell was more than sixty years old when Island of the Blue Dolphins was published. But he went on to write more than 25 additional novels for children, becoming one of the most famous children's authors in the world during the 1970s and 80s.
He lived most of his life in California. In the mid-1960s, however, he separated from his wife Dorsa and eventually married another woman, Elizabeth Hall. He moved with Elizabeth to New York, where he spent the last years of his life, and where he died in 1989.

For more information about Scott O'Dell please visit the official Scott O'Dell website.
Last updated: November 15, 2018