National Parks and Public Lands Legacy Restoration Fund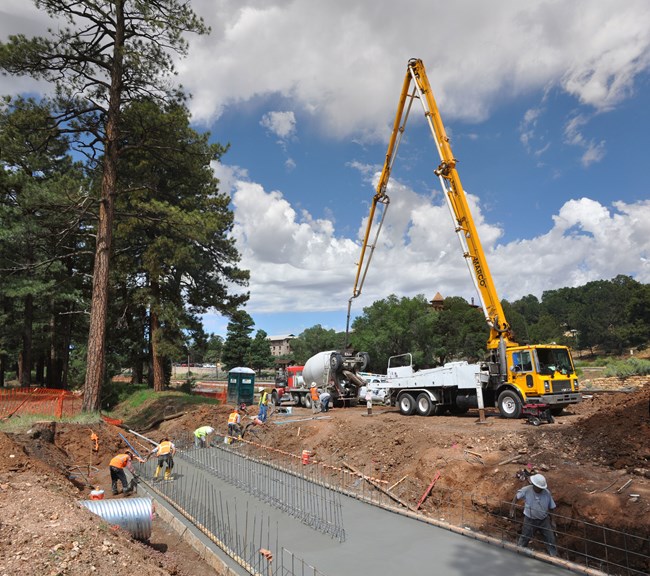 The National Parks and Public Lands Legacy Restoration Fund (Legacy Restoration Fund) established by the Great American Outdoors Act provides the National Park Service with up to $1.33 billion each year for five years, or $6.5 billion total, to address extensive and long overdue maintenance needs. The network of roads, trails, restrooms, water treatment systems, and visitor facilities in national parks is aging and often exceeds the capacity for which it was designed.

This is an extraordinary opportunity for crucial investments in our nation's most meaningful landscapes. The projects are addressing key climate and environmental threats, upgrading trails, roads and buildings, supporting local economies, and leveraging partnerships. The historical, natural, recreational and educational features in national parks are being protected and preserved for the use and enjoyment of current and future visitors.

In 2021, the program's first year, $1.33 billion is funding 48 large scale projects and 100 smaller projects in national parks in 49 states. View the data sheets of the 2021 projects.

The proposed 2022 budget outlines plans to spend $1.25 billion on 36 large projects in 14 states, including major road rehabilitation in six parks and water system upgrades in 11 parks. View the data sheets of the proposed 2022 projects.
GAOA Projects at a Glance
These projects provide a sample of those initiated in national parks throughout the country in 2021. See below for complete lists of 2021 and proposed 2022 National Park Service GAOA projects.
Acadia National Park, Maine: Replace Maintenance Facilities at McFarland Hill Headquarters - $26,872,216 
This project will construct a new maintenance operations complex and demolish more than 20,000 square feet of unsafe park structures. The current maintenance structures are structurally unsound, undersized, and inadequate and do not meet accessibility, fire, egress, and code compliance requirements. The structures are not sufficient to perform the necessary level of daily effort to support the park's current visitation in a safe and code compliant environment.  
Fort Vancouver National Historic Site, Washington: Rehabilitate Historic Main Parade Ground Barracks Building, Parking Areas, and Pathways for Visitor and Tenant Use - $19,777,327
This project will completely rehabilitate the three-story, 33,000 square foot large barracks in the east portion of the historic Vancouver Barracks. When complete, the National Park Service will lease the facility to an external party, generating rental income. Significant upgrades and rehabilitation work is required to meet current codes. Work includes repairs and rehabilitation of the exterior envelope, heating, cooling, lighting, fire protection alarms and sprinklers. An elevator will be added and interior finishes will be addressed. The rehabilitation will incorporate sustainability and energy efficiency principles while preserving the historic fabric and character defining features.  
The Barracks Building is one of four iconic large barracks buildings built in 1907 that face Fort Vancouver's Main Parade Ground. These are large and commanding structures with colonnaded fenestrations that present the grandeur of early 20th century U.S. Army posts. Site work will include rehabilitating associated campus parking lots to provide tenant and visitor parking, constructing pedestrian circulation routes to meet accessibility codes, improving pedestrian circulation and restoring the cultural landscape. The rehabilitation will include the parking areas north of McClellan Road, east of Fort Vancouver Way. Work includes regrading, base preparation, asphalt, striping, signage, storm drainage, site lighting and concrete sidewalks. Landscaping and lighting will be compatible with the historic cultural landscape. Rehabilitation provides the parking needs for tenants and visitors for the overall campus adaptive reuse of historic structures and specifically accommodate accessible parking and routes. 
Gateway National Recreation Area, New Jersey and New York: Replace Shoreline Stabilization Structures at Sandy Hook and Jacob Riis - $28,287,497 
This project will replace or repair two seawalls protecting multiple historic buildings, two major roads, two multi-purpose paths, two parking lots, a ferry dock, and a lift station.  
In New York's Jamaica Bay Unit, the project will repair the Beach Channel Drive Seawall, drainage, and adjacent trail. The replacement of the tongue and groove sheathing on the backside of the seawall and replacement of foundation will prevent washouts. The seawalls at Sandy Hook protect critical infrastructure and historic structures within a National Landmark District.   
The Riis Park Seawall at Jamaica Bay protects critical infrastructure including a major city thoroughfare and a 9,000 car parking lot adjacent to a heavily used park beach site.  
Glacier National Park, Montana: Rehabilitate Final 9.3 miles of the Going-to-the-Sun Road & Replace Bridge Over McDonald Creek - $17,147,220 
This project will accomplish two major rehabilitations. The first rehabilitation involves a portion of the Going-to-the-Sun Road from the foot of Lake McDonald to the intersection with the North Lake McDonald Road. The Going-to-the-Sun Road is a critical transportation asset for Glacier National Park as the only roadway that provides an east-west link across the park, traversing the Continental Divide. It is the primary roadway that park visitors use to access and enjoy the park's scenic views. This project will include the following improvements: geometry, curve widening, super-elevation on the horizontal alignment for transition zones, and addressing limited distances between curves. Pavement friction will be improved and traffic control devices will be enhanced. Also, fiber optic cable and conduit will be extended from outside of the park to serve Apgar Village and park headquarters to support connection to future fiber optic service installed by the utility provider.  
The second rehabilitation is to replace the bridge over Upper McDonald Creek that services several visitor access points, a ranger station, and landowner residences. This project will demolish the existing bridge and replace it with a 270-foot long clear span, highway rated bridge. Demolition eliminates a seriously under-rated historic glulam bridge.  The new bridge will be 27-feet wide, single lane in keeping with the historic character of the current bridge and have viewing sidewalks on both sides of the bridge.
Theodore Roosevelt National Park, North Dakota: South Unit Scenic Loops Slide Repair - $38,325,000 
This project will repair the South Unit Scenic Road (Route 11) in Theodore Roosevelt National Park. The project will evaluate and address multiple major roadway failure points, drainage systems, road base rebuild, and asphalt resurfacing along this corridor. This segment of the road has been inaccessible to all traffic (vehicle, bicycle, and pedestrian) since the summer of 2019 following a series of slides that have continued to degrade the roadway. Repairs and restoration of access will allow park visitors to drive the full scenic drive. Before the road was closed, approximately 85 percent of the South Unit's visitors traveled the loop road as part of the experience in the park.   
Yellowstone National Park, Wyoming: Rehabilitate Exteriors of Historic Fort Yellowstone Buildings – $22,331,400 
This project will address the deterioration of the Fort Yellowstone Upper Mammoth Historic Housing exteriors. Work includes replacing roof systems including underlayment, flashing, drip edges, roof finishes (metal, wood shingle, tile), cornices, fascia, trim gutters, and downspouts. The project will repair failed foundations; repair and refinish windows; install new storm windows; repair or replace front and rear porches to include steps and railing; repair or replace front and rear entry sidewalks; repair or rebuild chimneys including the replacement of chimney caps and the installation of guy supports; repair of damaged siding and trim; removal of lead paint; and repainting of exterior finishes.  
Yosemite National Park, California: Critical Repair and Replacement of 70KV Transmission Line From Parkline to Hwy 140 Powerhouse - $11,823,600
This project will address critical failing electrical infrastructure including high voltage transmission lines that serve multiple areas. It will replace or repair a transmission line and the supporting metal structures, which were originally constructed in the mid-1930s. This project will construct repairs and replace components of the system to address deficiencies. 
Additionally, this project will decrease the spending of National Park Service contracting funds associated with repairs. The system components have a typical life-span of 50-years. With limited maintenance, the existing original components have functioned for over 80 years. 
Fiscal Year 2021 Projects
Fiscal Year 2021 (October 2020-September 2021) National Park Service Great American Outdoors Act projects are listed below. They can be sorted by park name, state, or estimated funding amount in millions. View the data sheets of the 2021 projects.
| Park | State | Project Description | Funding Estimate (in millions) |
| --- | --- | --- | --- |
Download This Dataset
Proposed Fiscal Year 2022 Projects
Proposed Fiscal Year 22 (October 2021-September 2022) National Park Service Great American Outdoors Act projects are listed below. They can be sorted by park name, state, or estimated funding amount in millions. View the list of proposed 2022 projects.
| Park | State | Project Description | Funding Estimate (in millions) |
| --- | --- | --- | --- |
Download This Dataset
Last updated: July 29, 2021