Winter Driving Safety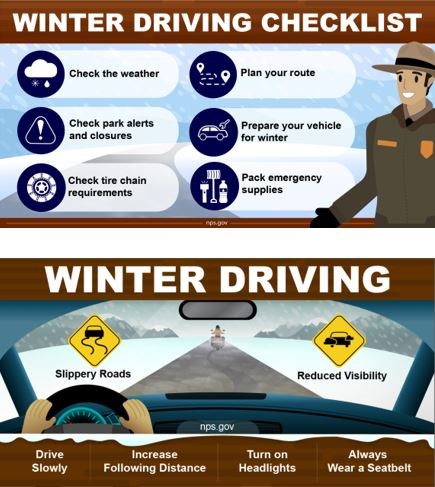 Winter weather transforms the landscape of national parks into an entirely new experience. It creates new recreational opportunities like skiing, sledding, and snowshoeing are available. It also makes roads slippery, reduces visibility, and
impacts your vehicle's equipment and operation.
Even the most experienced drivers have difficulties navigating these hazardous conditions.
Careful
trip planning
is essential to avoid becoming stranded on the road. Remember that many parks are located hours from emergency services. Even in urban areas, winter road conditions may delay response for hour or days.
PRO TIP: Let the Park Drive YOU
- Find out if the park you're visiting offers shuttles to and around the park. You can focus on the winter landscape while reducing congestion and improving the safety of all roadway users.
Before You Hit the Road
Check the Weather: Visit weather.gov and check the park's weather forecast.

Check Park Alerts and Closures: Find the most up to date information about hazards and closed areas in the park that may affect your visit. Some park roads close during the winter season.

Check Tire Chain Requirements: Some national parks require that you use tire chains or cables to improve traction in snow and ice. Visit the park's website to find out its specific requirements.

Plan Your Route: Map out your route to and within the park. Pay attention to any park alerts and closures as they may determine which roads are open and cleared for driving. Be prepared to navigate without your phone as cell service is not always available.

Prepare Your Vehicle for Winter: Cold temperatures can reduce tire pressure, weaken battery power, and freeze fluids. Before you leave the house:
► Inflate all main and spare tires
► Check batter and make any necessary repairs or replacements
► Replace worn windshield wiper blades
► Use freeze resistant wiper fluid
► Check defrosters and make any necessary repairs
► Keep the gas tank full to avoid ice in the tank and fuel lines
► Maintain the antifreeze level in the radiator


Pack Emergency Supplies: These are items that will help you in the event of an emergency.
► Cell phone, portable charger, and extra batteries
► Extra layer of winter clothing, blankets, or sleeping bags
► Food and water
► Jumper cables, flashlight, flares or emergency markers
► Snow shovel, broom, and ice scraper
► Sand or cat litter for traction in case your vehicle gets stuck in snow or ice
On the Road
Drive Slowly: It takes longer to stop on icy or snow-covered roads. Maneuvers like a sudden stop of sharp turn can cause you to lose control of your vehicle. Give yourself time to respond to other roadway users' actions.

Increase Following Distance: Increase the distance between you and the vehicle ahead so you'll have enough time to slow down and stop on slippery roads.

Turn on Headlights: Always keep your headlights on, even during the day. It helps you see the road and those around you. It also helps others see your vehicle.

Always Wear a Seatbelt: Everyone in the vehicle should wear a seat belt. Every trip. All the time. Children should be secured in the appropriate car seat for their age and size.

Share the Road: Stay alert for motorcyclists, bicyclists, and pedestrians on the road. Snow, fog, and ice reduce visibility and makes it difficult to spot them. Always yield to bicyclists and pedestrians.

Wear Reflective Clothing: Motorcyclist and others sharing the road with cars should wear bright, reflective clothing to increase their visibility.

Give Space to Snowplows: Stay behind the snowplow and keep your distance. Do not pass it. Driving next to a snowplow can cause flying debris to obstruct your view and damage your vehicle.
Last updated: March 4, 2022