Getting Started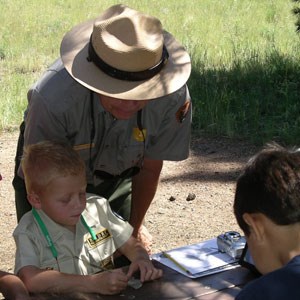 Should my organization participate in National Fossil Day?
Being a National Fossil Day partner and hosting a National Fossil Day event is an opportunity to highlight the stories told by fossils at your site and how they contribute to stories told at other sites locally and nationally.
National Fossil Day partnerships and events provide opportunities to:
Establish new partnerships locally and nationally.

Share your story with other fossil sites and organizations across the country.

Develop additional excitement and visitation to your site.
How do I become a National Fossil Day Partner?
There are more than 400 National Fossil Day partners, and the partnership continues to grow! Our current partners are listed on the NFD website in several categories:
Avocational Fossil Groups

Cooperating Associations

Corporate Sponsors

Fossil Sites

Government Agencies

Libraries

Museums

Professional Organizations

Public and Science Outreach Organizations

Universities and Colleges

Zoos
When you are ready to join, send an email to national_fossil_day@nps.gov that briefly outlines your institution's interest in National Fossil Day. Attach your institution's mission statement or significance statement and a logo, they will be added to the partner website.
Refer to the Event Hosting page to help develop your NFD event!
Last updated: September 9, 2022