2016 Centennial Design...and Beyond!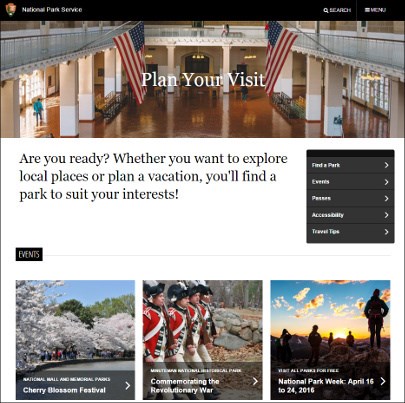 As part of the celebration of the National Park Service's 100th birthday in 2016, we worked to transform NPS.gov. Through the NPS.gov centennial design project, the site got a new look and added features to help website visitors find the information they want. The project included improvements to key elements of the NPS.gov trip-planning experience, focusing on:
Park sites including park navigation, park homepages, park Plan Your Visit pages, activities, structured data, and itineraries
Servicewide trip-planning tools including Find a Park, trip ideas, and events
Site-wide wayfinding including site-wide navigation, NPS.gov homepage, and primary landing pages
Updated look and feel for all NPS.gov park, subject, and organization sites
To figure out what changes needed to be made, we did our homework. The beginning of this project included a substantial research phase, hearing from many voices both inside and outside the National Park Service. We administered park surveys; held interviews with parks, NPS programs and managers, and potential park visitors; and looked at website analytics, with a focus on how visitors use NPS.gov. As the project developed, we asked our digital volunteers to test new designs and features.
The new design:
Provides a greater set of trip-planning tools and opportunities for NPS.gov visitors
Better links content across NPS.gov to get visitors the information they are looking for
Provides NPS park and program web authors greater flexibility and a better set of tools to build

and maintain websites and present

and promote content in ways that align with their needs and goals
The new design and first round of additional functionality launched in March 2016. New features and functionality, including a whole new event calendar for the national event listing and park websites (such as Grand Canyon) completed in fall 2018, continue to be added today. We encourage you to pick a park and explore the new look and added features!
Last updated: January 29, 2019