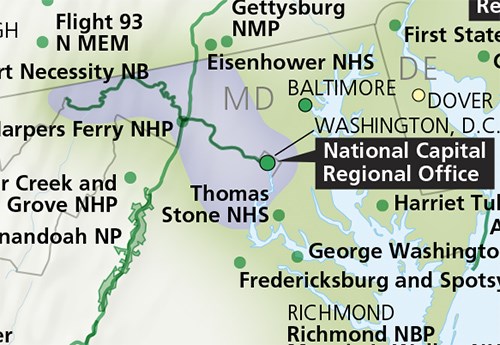 The cultural landscapes of the National Capital Region range in size from urban triangle public reservation parks of less than 400 square feet, to the 184.5 mile-long Chesapeake and Ohio (C&0) Canal National Historical Park, comprising over 14,000 acres across the District of Columbia, Maryland and West Virginia. Landscapes may encompass the entire boundary of a park or distinct historical areas within larger parks.

The region includes many of our nation's most widely recognized and treasured icons, as well as many lesser-known resources. This includes cultural landscapes of the Washington Monument and the Lincoln Memorial, to the unexpectedly beautiful landscape of Kenilworth Aquatic Gardens. Like the C&O Canal National Historical Park, Rock Creek Park and George Washington Memorial Parkway are linear parks that provide transportation corridors for the DC metro area, while also serving as a green oasis and for river access. NCR parks are among the most visited and visible parks in the national park system, serving more than 40 million visitors annually.
While NCR is the smallest of the seven NPS regions, it contains a wide breadth of cultural landscapes: both vernacular and designed, and rural and urban. As with many national parks, the landscapes of the NCR are threatened by urban and suburban development and climate change. Roadways through many parks are reaching their capacity in order to serve commuters and visitors.

The expansion of these highways and the suburban growth of communities that surround our parks can diminish the peaceful, commemorative landscapes of Manassas, Antietam, and Monocacy battlefields. Climate change and inundation along rivers and streams pose an on-going threat to many NCR cultural landscapes. Properties within the Potomac River floodplain or along other tributary streams, are some of the most vulnerable resources.