Types of Climbing
Climbing is an exciting and challenging recreational activity. Because of the variety of natural formations around the world, climbing has been separated into several different sub disciplines.

Not every type of climbing is listed below. Parks might have restrictions to the type of activity that is allowed. You can connect to individual parks on our Where to Climb page to check for specific rules and regulations in that Park.

Be aware that climbing can be dangerous. Therefore, knowledge of proper climbing techniques and use of specialized climbing equipment is necessary.

---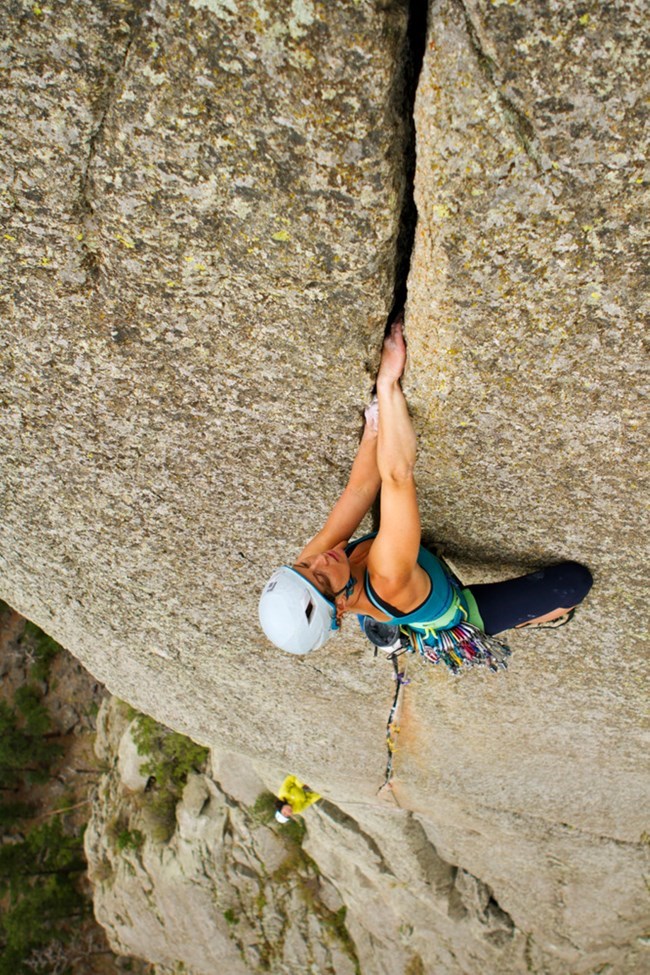 Adaptive Climbing
Climbing for people with a variety of disabilities. There are many types of assistive devices to aid adaptive climbers in all styles of climbing.

Aid Climbing
Aid climbing is a style of climbing where one stands on or pulls up through assistance provided by devices properly attached to the rock. Essentially using climbing equipment, either fixed or removable, to assist in making upward progress.

Alpine Climbing
Alpine climbing involves ascending a combination of rock, snow and ice climbing. It requires more technical climbing, skills and gear than mountaineering, as the combination of conditions along the route may vary.

Artificial Wall Climbing
A constructed wall with grips for hands and feet, usually used indoors but sometimes located outdoors.

Big Wall Climbing
Big Wall Climbing ascends long multi-pitch routes, normally requiring the climbers to sleep overnight on the wall to complete the climb. Big wall routes require the climbing team to live on the route often using portaledges (deployable hanging tent systems) and hauling equipment.

Bouldering
Bouldering is a form of climbing involving short routes at low heights. It is performed on small rock formations, such as large boulders, without the use of a harness or rope. Climbing is done over a crash pad to reduce the possibility of serious injury if the climber falls.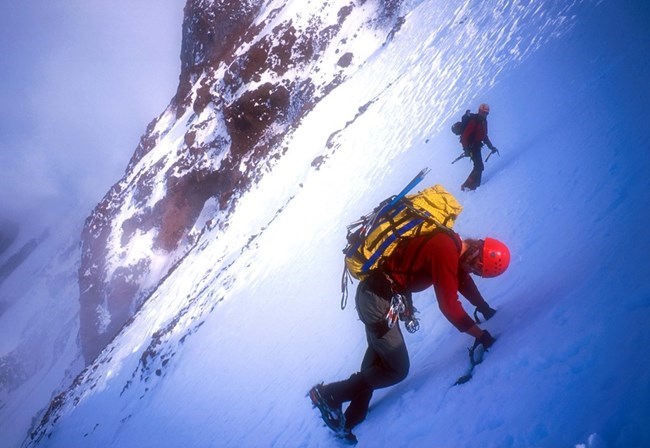 Ice Climbing
Ice climbing is when climbers ascend inclined ice formations, such as glaciers and frozen waterfalls. Ice climbing requires the use of specialized equipment that may or may not be needed for other types of climbing.

Mountain Climbing or "Mountaineering"
The goal of mountain climbing, or "mountaineering," is to reach high points in mountainous regions. Climbers need to be able to navigate through a wide- variety of conditions as mountains often provide a mix of terrain and conditions, including rock, snow, ice and glaciers.


Rappelling
A way for climbers, cavers and canyoneers' to descend their rope(s). The rope is fixed with removable gear or threaded thru fixed anchors.

Sport Climbing
Typically a single pitch, one rope length, fixed anchors (bolts) provide protection on the climb.

Traditional Climbing
In traditional climbing, or "trad" climbing, climbers carry their own gear which they place into the rock as they go. The lead climber places removable protection along the route and it is removed as the final climber ascends, ensuring minimal damage to the rock.
**Additional information on NPS Fixed Anchors Policy, which includes bolt placement and bolt replacement can be found at this link.
Wilderness

National Park Wilderness character, recreation, ethic and what that means to you.

Volunteer Opportunities

Are you interested in helping to protect America's natural and cultural resources? Try volunteering!

Staying Safe

Climbers assume responsibility for their personal safety and must have the appropriate skill and equipment for the route, conditions, weathe
Last updated: May 28, 2021