Staying Safe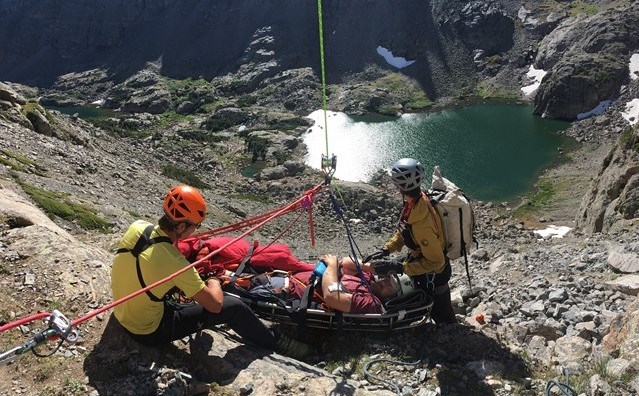 Staying Safe>
Climbers assume responsibility for their personal safety and must have the appropriate skill and equipment for the route, conditions, weather and season. To prepare for your trip to a national park, check out the NPS Trip Planning Guide and always leave a trip plan with an emergency contact.

Route access and closures to some areas within a park are common depending on the season. Visit the park's website or call ahead to get information on safety tips and alerts on hazards, road conditions, and closures.
Tips to Stay Safe while Climbing
Climb within your ability level. Do not climb unless you have the proper training and skills to keep you safe. Climbing conditions and the required skills can vary drastically from one site to another. If you are unsure whether you or your party have the required skills, hire a guide or get professional training.
Double-check your anchors, knots, harnesses, and all other safety equipment including fixed gear. Make sure you have the proper gear and that it is undamaged before you start a climb. . Parks retain the right to remove bolts in areas/zones where they are prohibited and/or when placed without proper authorization. (link to fixed anchors regs).
**The NPS does not maintain or inspect the condition of any bolts or other items of fixed climbing gear.
Have a plan. Do you know what to do if someone gets injured, weather changes, or the trip is taking longer than planned? Preparing before your trip will help you make a smart decision when the moment arrives. Be sure to set a turn around time and stick to it. Ensure someone else know your trip plans.

Know your route. Get familiar with the area you will be climbing in and track your location using a map, compass or altimeter. Bring the appropriate equipment for the route you are doing and know how to use it.

Make sure your group has clear communication terms and knows when to use them. Outside noises like wind or a nearby river can make communication much more difficult. Make sure you have a nonverbal communication plan that everyone understands.

Always wear a helmet. All climbers face the risk of slamming against a rock face, flipping upside down or encountering a rock fall. Stumbles and accidents can happen on any terrain to all ability levels. Therefore, always make it a point to protect your head.
Check the weather before climbing. Obtain forecast information before beginning your climb and observe changing weather conditions. Be prepared to turn around if conditions worsen.

In case of emergency, be prepared for self-rescue. Rescue is not a certainty and cell phone service is unlikely in most locations. Make plans for self-rescue and, should an unexpected incident arise, clearly and loudly call out for help. If a phone is available, call 911. Be prepared to tell the dispatcher the nature of the injury, number in your party, rock formation, climbing route name, nearest landmark and meeting place so that you can direct rescuers to the accident site. Report all climbing related injuries, even those that do not require assistance.
Things to Consider

Our parks span a wide vareity of terrain and climbing styles, some general considerations when palnning your trip.

NPS Climbing Managment

The National Park Service specific policies addressing wilderness management and stewardship.

Volunteer Opportunities

Many of our parks offer variety of stewardship opporuntities, from trail days to crag clean-ups.
Last updated: June 7, 2021