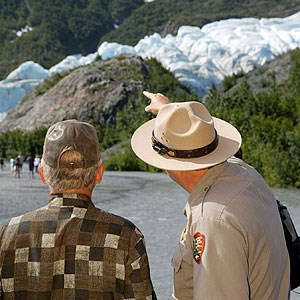 "One of the most precious values of the national parks is their ability to teach us about ourselves and how we relate to the natural world. This important role may prove invaluable in the near future as we strive to understand and adapt to a changing climate." — Jon Jarvis, October 28, 2009

National parks provide opportunities to engage citizens of all ages in experiencing the wonders of these areas. These natural classrooms offer a direct view into our cultural heritage and wild riches, through which the public can come to understand how climate change is altering the places we love. From this vantage point, and aided by a cadre of communication professionals dedicated to connecting parks to the public, the National Park Service (NPS) is uniquely positioned to touch many of the nearly 300 million visitors a year that come to national parks and visit us on social media.

Seeing climate impacts first-hand, and developing an understanding about how climate change directly impacts nearby or beloved resources, are essential to develop a public that is engaged with national parks, supportive of climate change response, and motivated to take practical action to become climate friendly.
National Park Service Climate Change Key Messages