Coastal Adaptation Strategies: Case Studies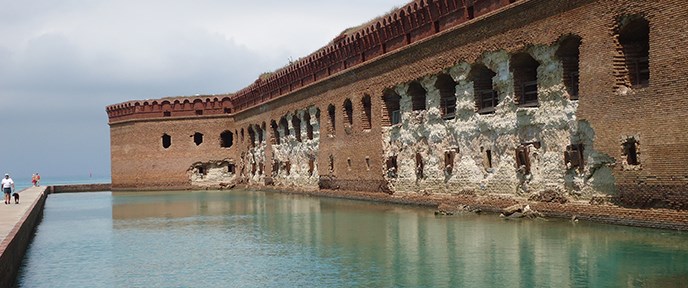 Many national park units across the country protect coastal resources of significant value. These areas are increasingly feeling impacts from climate change, including sea level rise, shoreline erosion, ocean acidification, warming temperatures, groundwater inundation, and changing precipitation patterns.
Many park units are taking innovative action to prepare for--and respond to--climate change. These solutions span a broad gamut of management, including baseline data collection, historic preservation, archeological surveys, habitat restoration, infrastructure design, and long-term planning.
In September of 2015, the National Park Service released the following summary report detailing 24 coastal adaptation efforts occurring in 15 states across the country. This report was compiled to generate inspiration and dialogue among park managers and other coastal management agencies responsible for stewarding natural and cultural resources amidst the hazards of climate change.
Individual case studies and project contacts are detailed in the table below.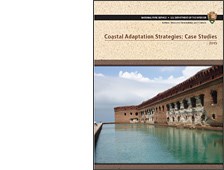 National Park Service Report, NPS 99/129700
September 2015
(PDF, 2.4 MB)
Explore the Case Studies
Each link below will open the case study in PDF format
| | | |
| --- | --- | --- |
| Case Study | Park | Primary Contact |
| | Acadia National Park, Maine | Rebecca Cole-Will |
| | Amistad National Recreation Area, Texas | Jack Johnson |
| | Assateague Island National Seashore, Maryland & Virginia | Deborah Darden |
| Relocating Visitor Facilities Threatened by Erosion | Assateague Island National Seashore, Maryland & Virginia | Deborah Darden |
| | Bering Land Bridge National Preserve, Cape Krusenstern National Monument, Alaska | Dr. Tahzay Jones |
| Cultural Resources Inventory and Vulnerability Assessment | Bering Land Bridge National Preserve, Cape Krusenstern National Monument, Alaska | Dael Davenport |
| Shell Mound Sites Threatened by Sea Level Rise and Erosion | Canaveral National Seashore, Florida | Dr. Margo Schwadron |
| Reducing Vulnerability of Coastal Visitor Facilities | Cape Cod National Seashore, Massachusetts | Lauren McKean |
| Relocating the Lighthouse | Cape Hatteras National Seashore, North Carolina | John Kowlok |
| Consideration of Shackleford Banks Renourishment | Cape Lookout National Seashore, North Carolina | Patrick Kenney |
| | Cape Lookout National Seashore, North Carolina | Patrick Kenney |
| Strategic Planning and Responsible Investments for Threatened Historic Structures | Dry Tortugas National Park, Florida | Kelly Clark |
| Developing Sustainable Visitor Facilities | Everglades National Park, Florida | Fred Herling |
| Incorporating Climate Change into Florida's State Wildlife Action Plan | Florida Fish and Wildlife Conservation Commission | Brian Branciforte |
| Lighthouse Stabilization Design Incorporates Sea Level Rise | Fort Pulaski National Monument, Georgia | Mike Eissenberg |
| Restoring the Jamaica Bay Wetlands | Gateway National Recreation Area, New York | Patricia Rafferty |
| Developing a Multi-Agency Vision for an Urban Coastline | Golden Gate National Recreation Area, California | Kristen Ward |
| Establishing Alternative Transportation to Fort Pickens to Supplement Vulnerable Road Access | Gulf Islands National Seashore, Florida | Dan Brown |
| Large-scale Restoration of Barrier Island Systems and Cultural Resource Protection through Sediment Placement | Gulf Islands National Seashore, Florida | Dan Brown |
| Recognizing Coral Adaptations to Environmental Stressors | National Park of American Samoa | Tim Clark |
| Storm Surge and Sea Level Change Data Support Planning | NPS Geological Resources Division, Colorado | Dr. Maria Caffrey |
| | Olympic National Park, Washington | Dave Conca |
| | Point Reyes National Seashore, California | Lorraine Parsons |
| | Yellowstone National Park, Wyoming | Steven Iobst |
| | | |
| | | |
| | | |
Report Editors
Courtney A. Schupp
National Park Service
Geologic Resources Division
7333 W. Jefferson Ave,
Suite 450
Lakewood, CO 80235
Rebecca L. Beavers
National Park Service
Geologic Resources Division
7333 W. Jefferson Ave,
Suite 450
Lakewood, CO 80235
Maria A. Caffrey
University of Colorado Boulder
Geological Sciences Department
UCB399
Boulder, CO 80309
Last updated: March 27, 2020