Women's Vote in Alaska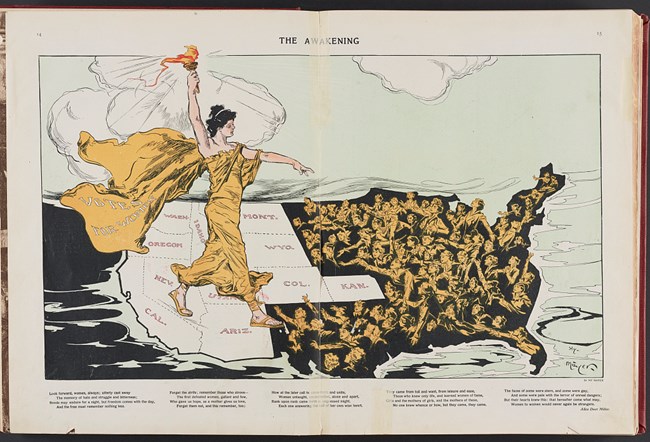 The newly minted Alaska Territorial Legislature's first act was passage of the Shoup Women Suffrage Bill on March 21, 1913. This granting of women's right to vote in political elections (aka suffrage) had passed with comparative ease. The Seattle Sun newspaper stated its praise for the bill "Alaska is nothing if not progressive," as quoted in the Skagway, Alaska newspaper The Daily Alaskan 26 June 1913. Alaska's advocates, however, had not been sitting on their hands, as they had participated in a variety of efforts, being inspired by the national women's suffrage movement, including the gathering of signatures for petitions then submitted to the Legislature towards the formulation and passage of the bill. Once passed, the bill was quickly signed into law by governor Walter E. Clark and elicited praise by suffragist leaders. The law, however, only applied to women citizens, which at the time, excluded Alaska's Native people. It would take more legislation and several decades for voting rights "for all" to be more fully realized.

Passage of Alaska's women's suffrage bill occurred during a moment in time when much of the country was focused on "progressive" ideas and reform movements of social issues such as civil rights (for some). Several western territories and states from the 1870s into the 1910s had already passed laws granting women the right to vote. Alaska benefitted from this "western" precedent, in addition to efforts of local support, decades of national suffragist activism and the general Progressive mood of the time. It would take, however, seven more years of advocacy and peaceful protest before the 19th amendment to the U.S. Constitution was ratified, on August 18, 1920, to guarantee American women the right to vote.
Learn More
Last updated: July 27, 2020