Article
Women's History Month in Alaska
By Erik Johnson, Historian, Denali National Park & Preserve
The month of March has been
symbolically important
to women's rights, nationally and
internationally
for over 100 years. Around 1911, March 8th began being recognized as
International Women's Day
by several countries, including the US. In 1980 a National Women's History Week was designated by Presidential Proclamation and in 1987 Congress established National Women's History Month.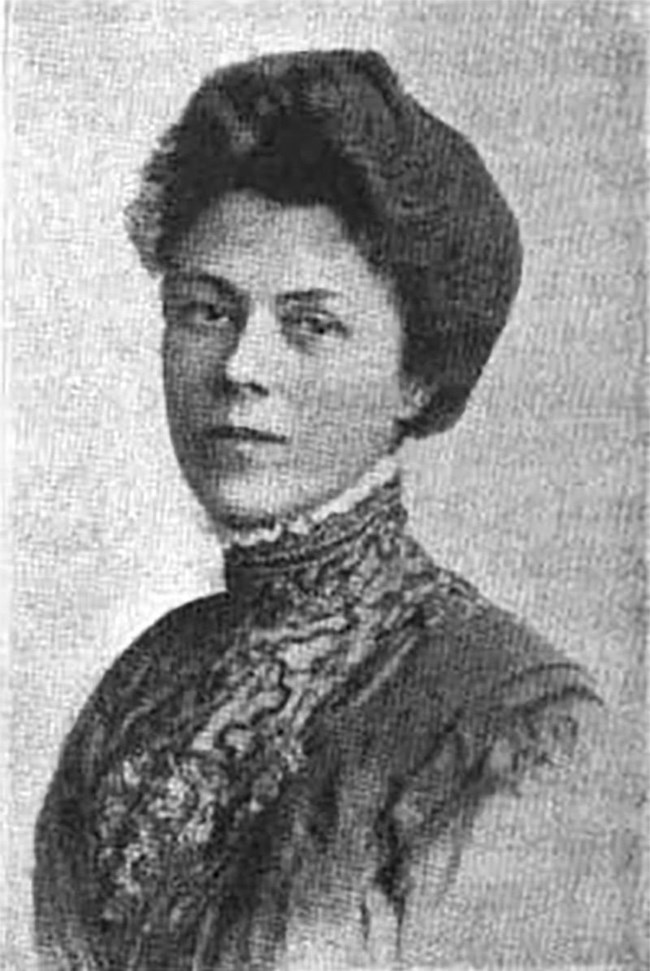 March also has been significant to women in Alaska for at least 107 years. In its inaugural session, Alaska's first territorial legislature gave women the right to vote on March 21, 1913—seven years before national women's suffrage was granted by the 19th Amendment.[1]
The Shoup Bill
was the first bill signed into law by the territorial governor Walter E. Clark.[2]
Alaska's male-dominated government passed women's suffrage, but female leaders organized and lobbied to make voting rights a reality.
Cornelia Thompson Jewett Hatcher
drafted a petition that granted women the right to vote and gathered signatures around Alaska.[3] Another important suffragist was
Lena Morrow Lewis
, who traveled around Alaska in the 1910s and spoke to large audiences in Fairbanks, Valdez, and Juneau about voting rights and other social reform issues.[4]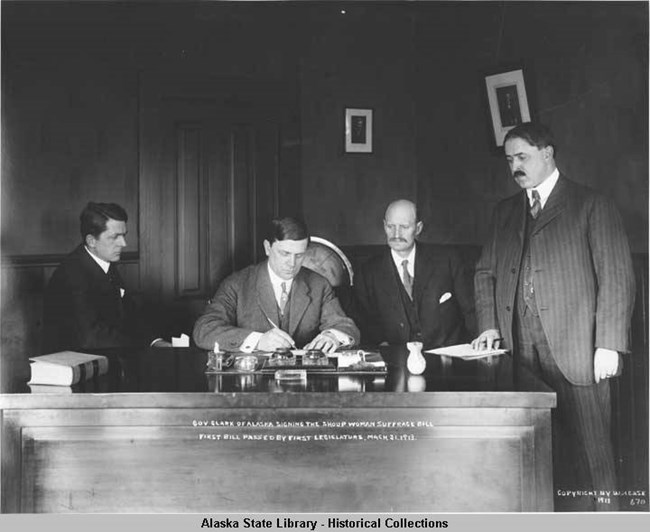 Although the Shoup Bill did not give Alaska Native women access to the ballot, the Alaska Native Sisterhood formed in 1914 and fought to achieve voting and citizenship rights as well as land rights for Alaska Natives.[5]
March, 2020 note:
The National Park Service is currently
commemorating the 100th
anniversary
of the 19th Amendment, which passed Congress on June 4, 1919, and was ratified by the states on August 18, 1920.[6] The NPS is celebrating achievements of women throughout the country, and current female employees of the NPS are being
recognized
for their contributions to the agency.
If you're interested in contributing to this project,
email Erik Johnson, Denali's historian
.
---
[1] These victories for women's suffrage in Alaska did not include voting rights for Alaska Native women. In 1915, the legislature acknowledged Alaska Natives' right to vote but only if they abandoned their customs and traditional way of life. Discriminatory practices against certain groups of voters have always occurred within various government jurisdictions. The Voting Rights Act of 1965 largely resolved many discrimination issues but Alaska Natives have
continued to face obstacles
to the ballot.
[2] Prior to being a territory, Alaska was a District and managed by the War Department. Territorial
status
gave Alaskans more representation through the legislature.
[3] In 1916, Lewis campaigned to be Alaska's Territorial Delegate to Congress, which made her the first woman to run for a national office in Alaska. Lewis ran as a Socialist against James Wickersham and Charles A. Sulzer (Sulzer won).
[4] Cornelia's husband was Robert Lee Hatcher for whom Hatcher's Pass was named. Cornelia was a part of the Woman's Christian Temperance Union (
WCTU
), an organization involved with numerous social reforms during the Progressive Era.
[5] The
Alaska Native Brotherhood
was founded in 1912 (with one woman founding member, Marie Moon Orsen) and fought alongside the Alaska Native Sisterhood to achieve civil rights for Alaska's indigenous people.
[6] For a Constitutional amendment to be adopted, it must pass Congress (both the House and Senate) with two-thirds majority vote, and then must be ratified by three quarters of the states' legislatures. Alaska was a Territory until 1959, so it did not vote on ratification.
Last updated: March 30, 2020