At a Park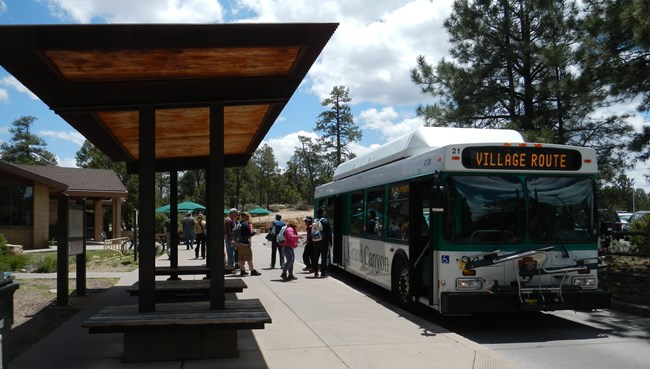 Park visits are a great time to focus on reducing your environmental footprint. Here are a few ideas that you can try next time you are out and about in your national parks.
Green your ride. Observe speed limits, avoid idling, and maintain your vehicle to reduce emissions from travel to and within the park.
Take a ride (or a hike). Consider riding the park shuttle if available. In many larger parks during the busy season, taking group transportation can get you directly to popular destinations, eliminate the frustration of looking for a parking space, and reduce congestion and air pollution from park roads. Walking to and from destinations is an environmentally friendly and can be an enjoyable way to experience a park.
Reduce, reuse, recycle. Help reduce waste by sorting and recycling all materials according to the local program guidelines.
Refill please! Refill your travel mugs and water bottles instead of buying packaging that will be discarded.
Volunteer. There are many ways that you can help care for your national parks, from one-time to recurring volunteer opportunities for youth, families, groups, and individuals. Visit volunteer.gov or Find a Park and contact them directly for specific opportunities.
Jr. Ranger. Fun for all ages :) Many Jr. Ranger programs have environmental messages.
Last updated: March 22, 2018