Washington DC Area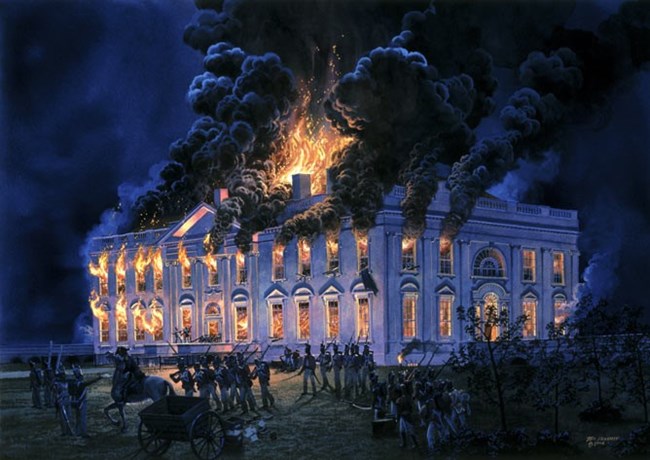 Washington, DC
As the last line of American defense crumbled on the battlefield near Bladensburg, First Lady Dolley Madison was still in Washington, trying to save what she could from the President's House (better known as the White House).
Other Washingtonians were fleeing, but Mrs. Madison joined them only after ensuring that Gilbert Stuart's portrait of George Washington was safe. The first lady's entourage was gone when President Madison arrived. He is said to have had a glass of wine to contemplate the situation before he also evacuated the federal city.
British troops entered Washington on Bladensburg Road the night of August 24, 1814, and were greeted by musket fire from several buildings near the Capitol. The British searched and set fire to one of the houses, the Sewell-Belmont House.
The British also torched the Capitol building. Moving to the President's House, they found a table set for dinner. The officers ate and toasted President "Jemmy" before setting fire to anything that could burn. Nearby, the British burned the Treasury, War and State Department buildings. The Washington Navy Yard was also in flames, set by Americans before it could fall into British hands.
The next day, as parts of Washington smoldered, a severe thunderstorm—and possibly tornadoes—blew through, taking down trees, damaging buildings, and squelching embers from the fires.
By the evening of August 25, the British began moving back toward Benedict, stopping in Bladensburg to pick up many of their wounded comrades from the battlefield.
Meanwhile, President Madison made his way to northern Virginia, where he spent the nights of August 24 and 25 on the run. On August 26, he crossed into Maryland, traveling first to Montgomery Courthouse and then to the Quaker town of Brookeville, Maryland. Hungry and exhausted, the president and his party found food and shelter for the night there, making Brookeville "The Nation's Capital for a Day."
Alexandria, VA
In the early 1800s Alexandria was an important port with its own militia. In summer 1814, though, Alexandria's militia had been sent to defend Maryland from the British invasion. So on August 28, four days after the British burned Washington's most important federal buildings, defenseless Alexandrians saw enemy warships approaching up the Potomac River.
To prevent similar destruction, Alexandria Mayor Charles Simms and members of his "vigilance committee" decided that, "from extreme necessity," they would authorize "an arrangement with the enemy." They rowed out to the British with a white flag of surrender.
The British occupied Alexandria August 28–September 3. Under the terms of capitulation they seized ships, flour, tobacco, and other valuables— although the booty came from public warehouses, not private homes.
Last updated: April 10, 2020