Freedom Seekers and the Colonial Marines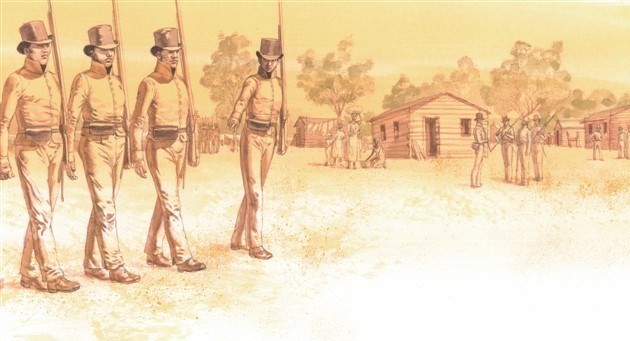 When the British arrived in the Chesapeake Bay in 1813, enslaved people sought their freedom by rowing out to British boats, usually in the night. But such attempts were relatively small until the spring of 1814 when Vice Admiral Alexander Cochrane issued a proclamation on April 2, offering Americans—but intended to mean enslaved individuals—to join the British land or sea services, or to move as free settlers to British processions in North America or the West Indies.
The British understood that freedom seekers would help to weaken the American economy that was in part dependent on the labor-intensive cash crop tobacco. American plantation owners became wary of enslaved rebellions; even Great Britain feared that rebellion could spread to their plantations in the West Indies.
In total, about 4,000 enslaved people gained their freedom by joining the British. Many were were given shelter at the British base on
Tangier Island
. There, about 200 of the men were trained and issued arms to fight side-by-side with British troops as a Colonial Corps of Marines, participating in many raids on the Chesapeake, including the British march on Washington, D.C. Members of the Corps assisted the British in planning these actions, often having firsthand knowledge of the waterways, roads, and paths.
After the war Great Britain resettled the former enslaved people mostly in the Canadian Maritime Provinces or in Trinidad. One community in Nova Scotia settled in what they called Africville. Descendants in Trinidad call themselves "
Merikans
."
Learn More
The Maryland State Archives has pulled together a
database
that features case studies on freedom seekers and their enslavers. The Nova Scotia Archives also features an
article
and
list
about the refugees who were resettled in to the region during and following the War of 1812.
Researchers at
Sotterley Plantation
have identified several of the 48 enslaved people who left in June 1814 when British ships were anchored offshore in the Patuxent River. After the war, the plantation's owner, John Rously Plater, submitted claims for compensation, listing the names of those "seduced and carried away." Records show that James Bowie was given land in Trinidad. Stephen Coursey, Jack Leale, and Lewis Muroe were given parcels of land in Halifax, Nova Scotia. All were accompanied by their wives and children.
Last updated: August 8, 2023