Citizen Soldiers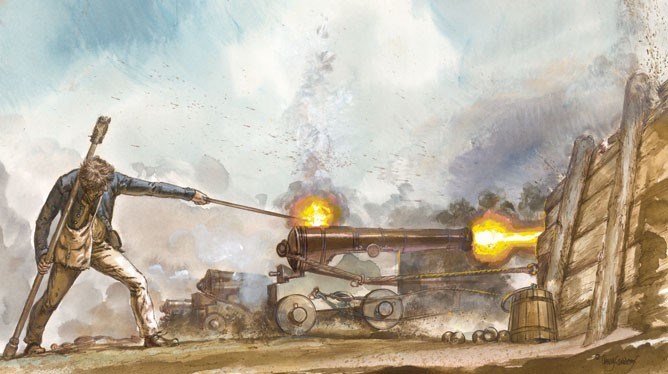 Wary of the cost of retaining a large military in peacetime, the United States kept its military relatively small in the 25 years after the Constitution was ratified.
When the War of 1812 began, most of the regular army was deployed north to the border with The Canadas, as the British colonies of Upper and Lower Canada were then known. This left mostly local citizen soldiers—called militia—in charge of defending the Chesapeake Bay region.
There were more than 700,000 militiamen available in the 17 states, and the federal government called up nearly 460,000 for duty. Militia operated under the jurisdiction of their state, but the federal government could call on them in an emergency (although in some instances governors forbid militiamen from fighting outside state borders).
Most militiamen were poorly trained and led by inexperienced officers. According to the Militia Act of 1792, these men were required to provide "a good musket or firelock, a sufficient bayonet and belt, two spare flints, and a knapsack, a pouch with a box therein, to contain not less than twenty-four cartridges." But many did not have the means to provide their own equipment and there was no penalty for non-compliance.
Consequently, militia performed with mixed results. During the
Battle of Bladensburg
, although Americans outnumbered the British, they were less experienced. The US Marines and US Chesapeake flotillamen held their ground, but the panicked militiamen fled. Their performance was later mocked in a poem titled "The Bladensburg Races."
However, militia also won some victories over the British, such as at the
Battle of Caulks Field
near Chestertown, Maryland. Local militia twice repulsed British attacks on
St. Michaels
and Elkton.
Learn more about
national defense
during the War of 1812.
Last updated: January 13, 2022