Tour Stop 6 - McFadden's Farm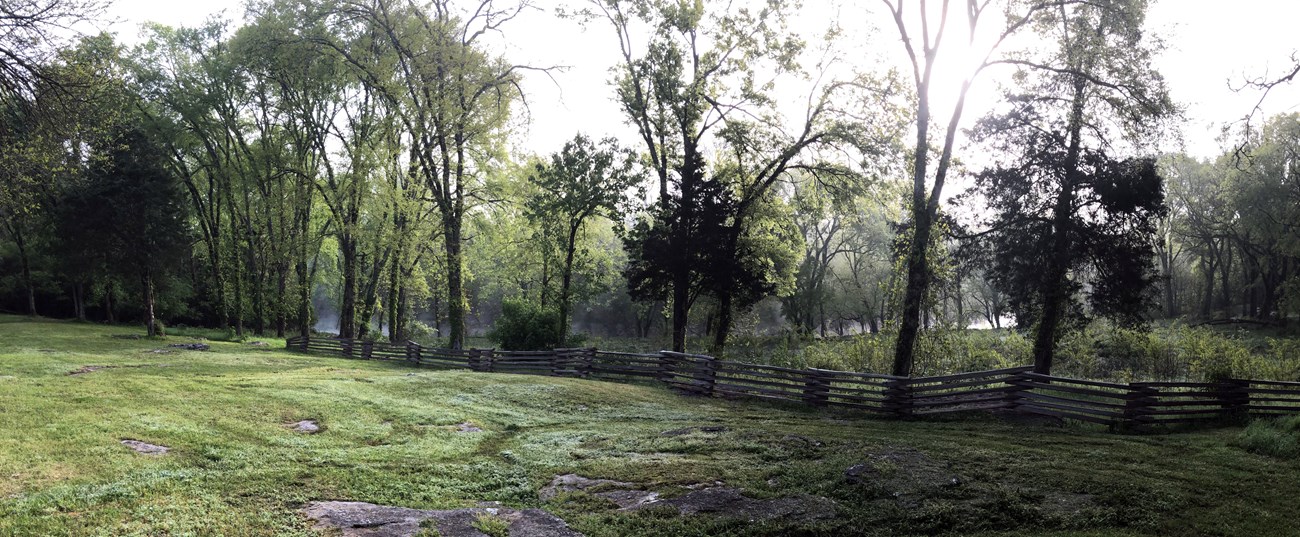 Union soldiers hid behind stone and rail breastworks as men fled across the river chased by Confederates. Union cannon firing from above McFadden's Ford halted the Confederates with shot, shell, and canister, killing and wounding over 1,800 men in less than an hour. This was the battle's final action.
---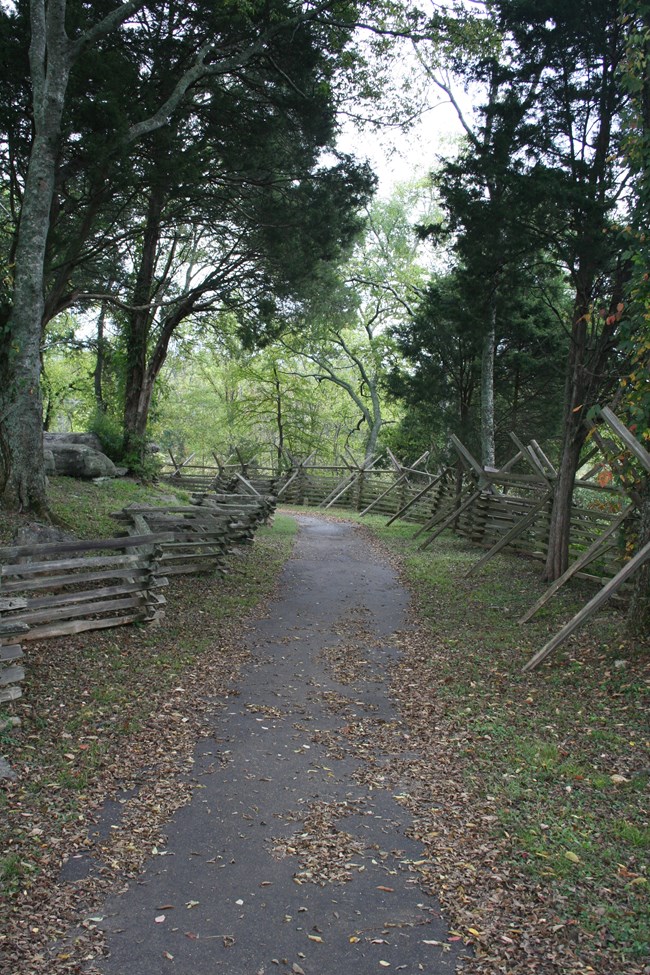 Both armies spent New Year's Day reorganizing, resupplying, and caring for the wounded and dead. Confederate General Bragg thought that Union General Rosecrans would retreat back towards Nashville. Instead, Rosecrans decided that they should stay and fight, and prepared to defend his position.

Union Gen. Horatio P. Van Cleve's division, commanded by Gen. Sam Beatty, moved down the dirt road leading from the McFadden family farm to the river. They crossed and took up position on a hill east of the river that stood as the highest ground on the battlefield. The soldiers worked through the night to fortify three lines of defense.

On the morning of January 2, 1863, Confederate Gen. John C. Breckinridge discovered the Federals had taken the high ground. He immediately reported the situation Gen. Braxton Bragg. Bragg knew his chances of victory were slim if he left his enemy in control of that position. He ordered Breckinridge to take the hill.

Gen. Breckinridge reluctantly ordered his 4,500 men to attack with one round loaded and bayonets fixed to their muskets. The assault began at 4 PM. The Confederates charged forward and drove the enemy from the hill. They reformed and began pursuing the fleeing men in blue. For a moment, victory seemed to be within the Confederates' grasp.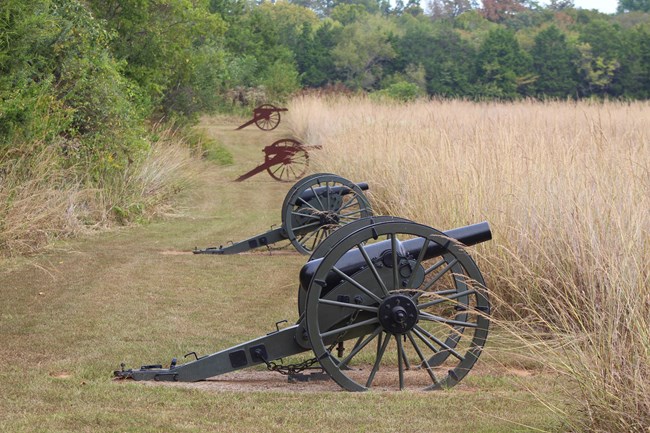 Along the opposite bank of the river, Union artillery trained their guns on the gray mass and waited for the chance to change the tide of the battle. As the Confederates came within range, the cannons began to fire. The earth shook and explosions ripped the air. For the Confederates, horror and despair dashed the momentary thrill of victory.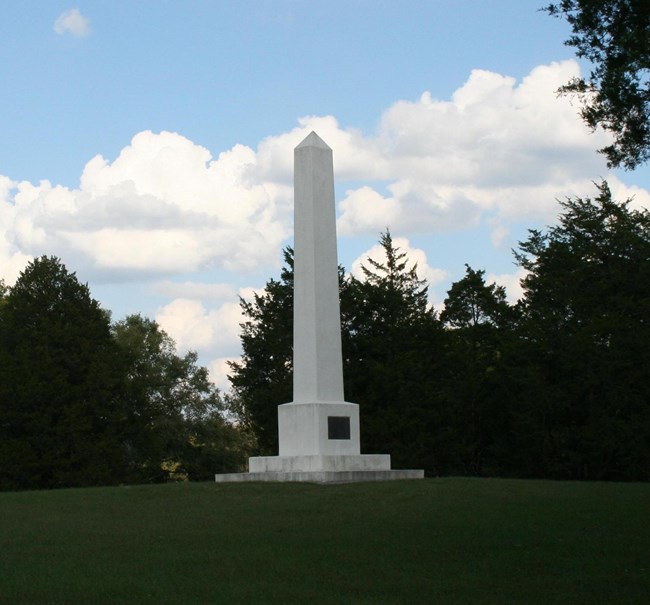 In 1906, the Nashville, Chattanooga and St. Louis Railway dedicated this monument on the site where Union artillery did its deadly work on January 2, 1863. The plaque on the monument reads:
On January 2nd, 1863, at 3:00 P.M., there
were stationed on this hill, fifty-eight cannon
commanding the field across the river, and
as the Confederates advanced over this
field, the shot and shell from these guns
resulted in a loss of eighteen-hundred killed
and wounded in less than an hour.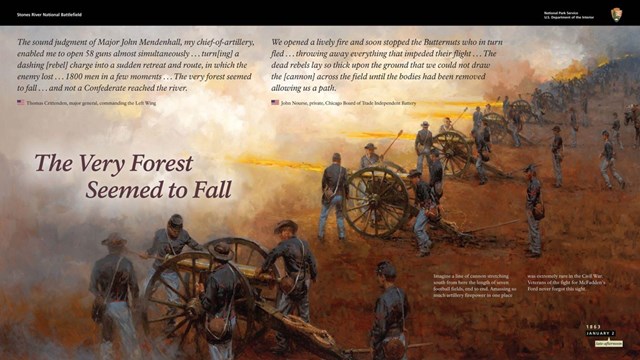 The Very Forest Seemed to Fall
Read the wayside exhibit about the 58 Union cannons that fired on the attacking Confederates.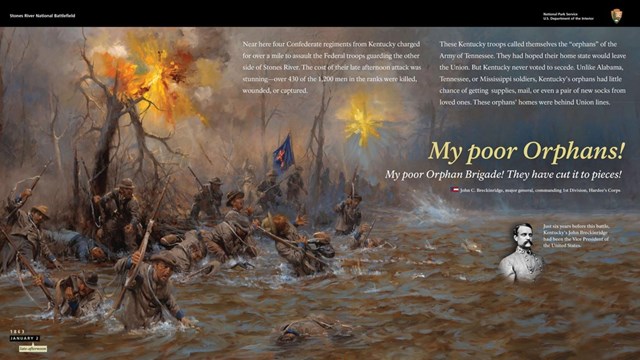 My Poor Orphans!
Read the wayside exhibit about the Orphan Brigade and the losses they sustained.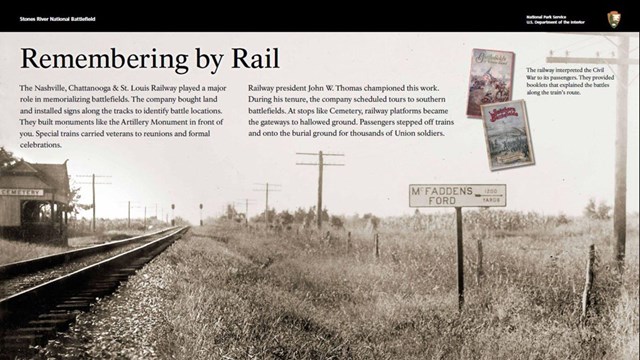 Remembering by Rail
Read the wayside exhibit about the Artillery Monument and the role of the railroad in remembering the Civil War.
Last updated: July 23, 2022