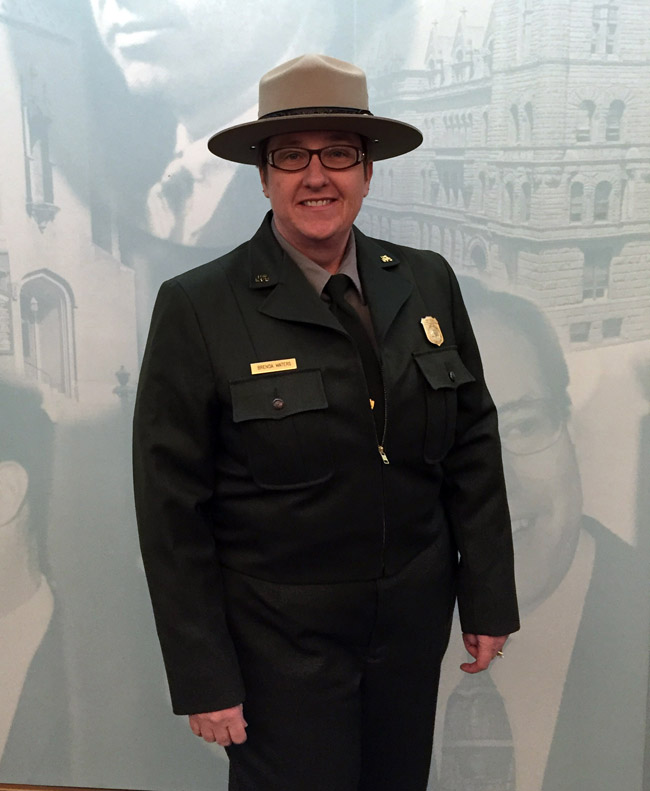 News Release Date:
February 11, 2016
Contact: Nigel Fields, 404-507-5612
ATLANTA -- National Park Service Southeast Regional Director Stan Austin recently announced the selection of Brenda M. Waters as the new superintendent of Stones River National Battlefield in Murfreesboro, Tennessee.Waters is currently the superintendent of the William Howard Taft National Historic Site in Cincinnati, Ohio, in the Midwest Region of the National Park Service. She will begin her new assignment May 1, 2016.
"We are pleased to welcome Brenda to the Southeast Region. She is a skilled and talented leader with an extensive knowledge of natural resources and strong appreciation for cultural resources," Austin said. "Battlefields are places of tremendous historic importance but the value of their natural environs is often overlooked. Brenda's background has well prepared her to lead in the preservation of both the historic and natural resources of Stones River National Battlefield."
Brenda M. Waters began her National Park Service (NPS) career in 2004 at Yellowstone National Park as liaison for the Northern Rocky Mountain Exotic Plant Management Team where she directed the work and coordination of three mobile invasive plant management teams within 15 parks throughout Idaho, Montana, Utah and Wyoming.From 2008 to 2012 Waters served as the Assistant Chief for Natural Resources at Indiana Dunes National Lakeshore and the Great Lakes Research and Education Coordinator in Porter, Indiana.
In 2012 Waters was selected for the NPS Bevinetto Congressional Fellowship, a two-year leadership training and development program based in Washington, D.C.Waters served as the acting Midwest Region Deputy Associate Regional Director for Natural Resources Stewardship and Science in Omaha, Nebraska in 2014 and later as the acting Superintendent of Pea Ridge
National Military Park in Garfield, Arkansas. Since 2015, Brenda has been honored to serve as the superintendent of William Howard Taft National Historic Site in Cincinnati, Ohio, the birthplace and home of our 27th President and 10th Supreme Court Chief Justice.
Prior to her career with the NPS, Waters was the State Noxious Weed Coordinator for the Idaho State Department of Agriculture from 2001 to 2004 and as a scientific aid at the University of Idaho from 1995 to 2000.Brenda received a Bachelor's of Science in Biology at Boise State University in 1995 and a Master's of Science in Plant Science at the University of Idaho in 2000.
Waters, an Idaho native, and her husband Chris, who grew up in Seattle, Washington, look forward to life in Murfreesboro.They are parents to Brandon, a former U.S. Marine and current computer and electrical engineer, and Jessica Bell, a college student and married mother of three-year old Shelby Liberty Bell. Brandon's wife Julie is a NPS Protection and Law Enforcement Ranger at Indiana Dunes National Lakeshore. Waters loves spending time with her family and also enjoys traveling, the outdoors, square dancing, cooking, quilting, gardening, learning, and meeting new friends.
"With the rich history, special resources, moving stories, and enormous potential for partnerships at the Stones River National Battlefield and National Cemetery, I am honored by this opportunity to help preserve and protect the park's resources and to welcome all visitors to experience the park," Waters said."This is a wonderful time to be part of the National Park Service;I am excited to become part of the Murfreesboro community and to work with the park's dedicated staff, partners, and friends who care for this special place."
�+