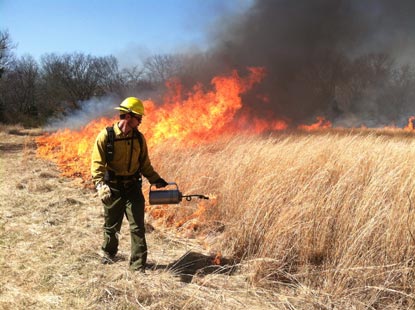 News Release Date:
March 27, 2014
Contact: Troy Morris, 615-893-9501
Stones River National Battlefield, in collaboration with Natchez Trace Parkway Fire Management (NTPFM), implemented prescribed burns in March 2014 encompassing 170-acres to restore and enhance sensitive cultural landscapes and natural ecosystems. The targeted burn units consisted of a mix of fields, woodlands, forests and glades that contain a variety of unique cultural and natural resources, ranging from historic earthworks and viewsheds that contribute to the park's listing on the National Register of Historic Places, to globally rare cedar glade ecosystems that contain state and federally listed endangered plant species. 
The purpose of the burns were to control the spread of invasive plants, promote the growth of native plants, stabilize historic earthworks by reducing the density of encroaching woody plants, prepare cool-season pastures for conversion to native warm-season grass fields, rehabilitate tornado damaged cedar glades through fuel reduction, and to protect and enhance populations of the federally endangered Pyne's ground plum (Astragulus bibulatus).
Many cost-saving measures were implemented to alleviate budgetary constraints necessary to implement the burns. Park funds and staffing were carefully directed to augment the NTPFM. Park staff conducted pre-planning and compliance months in advance and completed fire line construction and burn preparation remotely under guidance from the NTPFM. Fire resources were scaled specifically to the size and complexity of the burns. NTPFM resources were augmented by local park or community resources wherever possible. Also, the NTPMF utilized park housing quarters during travel to reduce expenses. All of these efforts resulted in a deliberate, highly-coordinated operation that maximized efficiency.