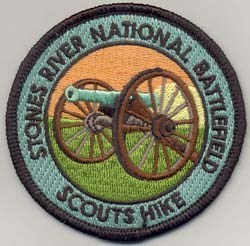 Stones River National Battlefield offers two hikes that let scouts explore their history by answering a series of questions during their visit. After completing their hike, many groups purchase a commemorative patch from our book store to remember their visit. The patches cost $3.95 plus tax.
We request that all scout groups contact us before visiting the park. Rangers may offer education programs to scout groups upon request.
Click on the links below for maps and questionnaires for each scout hike.
The Battle of Stones River Hike