Physical/Mobility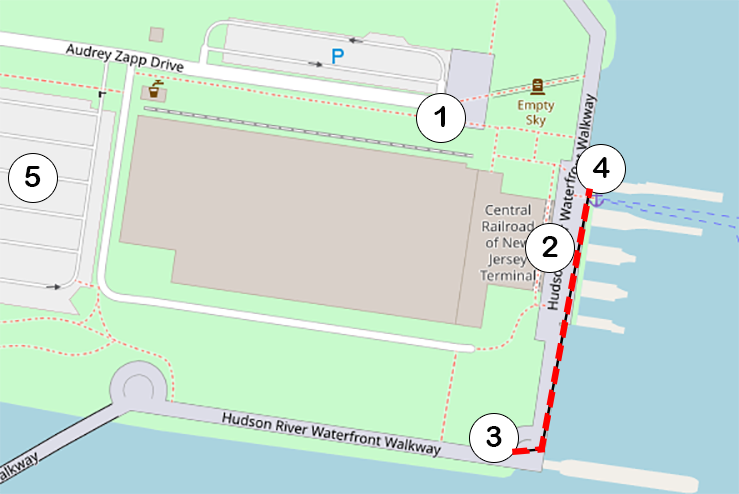 Liberty State Park Departure Change
The distance to the ferry embarkation from the security screening tent has increased by 300 yards [see map]. Please plan accordingly and bring a mobility device, such as an electric or manual wheelchair, or a manual mobility aid (such as walkers, canes or crutches) if needed.
1. Handicap-accessible drop-off location
2. Tickets
3. Security Screening Tent
4. Ferry Embarkation
5. Parking Lot
Accessible Facilities and Areas on Liberty Island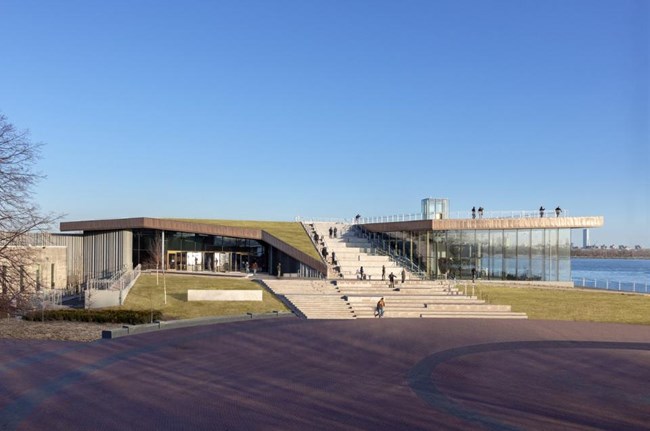 Statue of Liberty Museum
Located past the Information Center on the left, the Statue of Liberty Museum is accessible by two ramps on either side of the building. One flight of stairs is also an option. The museum includes a ten minute movie, three interactive galleries, and restrooms all located on one level. The top of the museum has an observation deck that is accessible by stairs or an elevator. This observation deck provides panoramic views of New York Harbor. A limited number of wheelchairs can be borrowed free of charge with a photo ID at the information desk.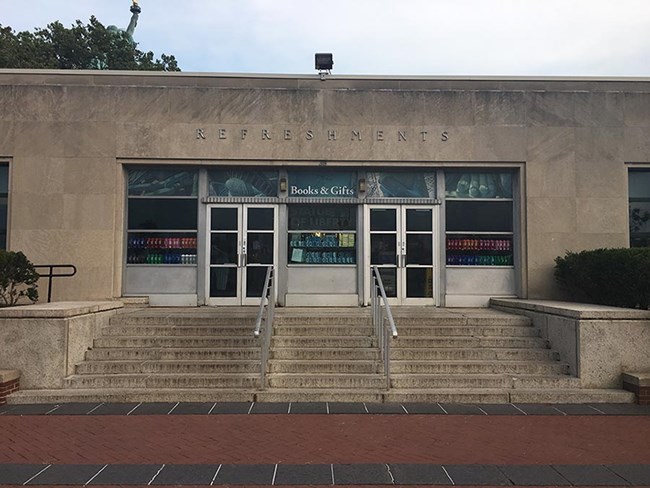 America's National Parks Bookstore &
Evelyn Hills Crown Cafe
As you make your way off of the ferry dock, heading straight towards the flagpole, you will find the Refreshments Building on the right-hand side across from the Information Center. Inside you will find America's National Parks Bookstore and a dining area called the Crown Cafe. Access to the bookstore is by a ramp or stairs in front of the building. A ramp on the right side of the building leads to the Crown Cafe. The dining patio and Gift Pavilion is also accessed using this sloped walkway.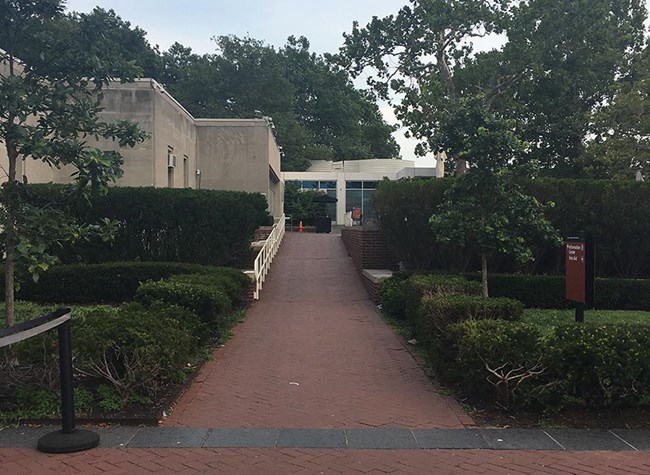 Patio Access
Visitors can access the Refreshments Building (on the left) and Gift Pavilion (in front) from the outside dining patio. Ramp or stair access leads back down to the main thoroughfare for access to the rest of the island.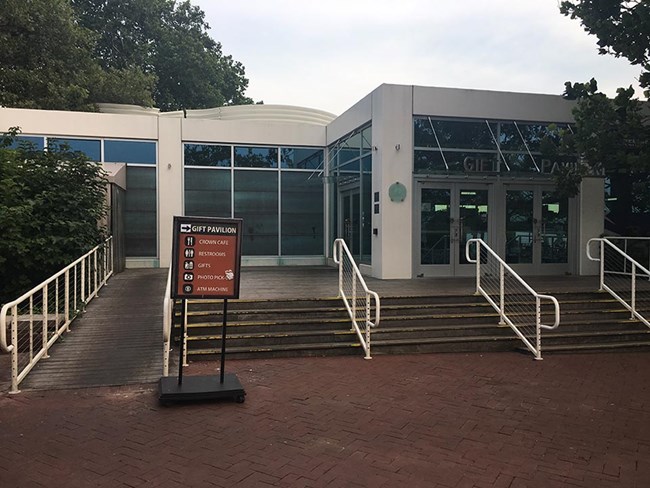 Gift Pavilion & Restrooms
The Gift Pavilion provides visitors with access to public restrooms and water fountains. All facilities inside this building are accessible. The entrance can be accessed by both stairs and ramp options. The ramp is located to the left of the entrance staircase. An automatic door opener can be found on the wall to the right of the entrance doors.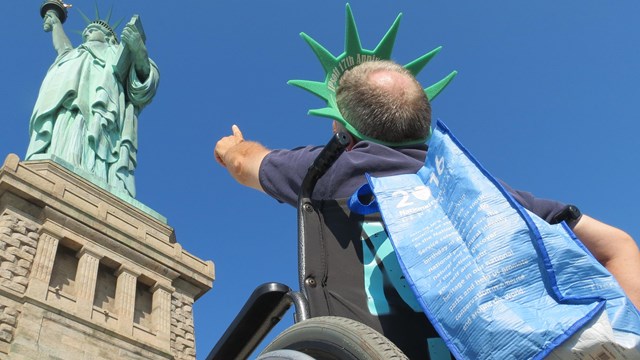 Physical/Mobility Inside the Statue
Information and locations of elevators, lifts, handrails, and moving around the different levels inside the monument.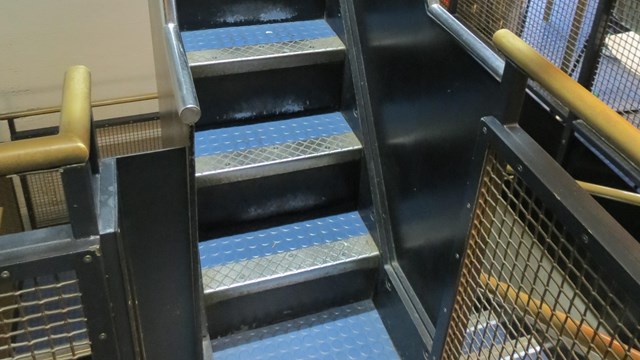 Physical/Mobility In The Crown
Information and locations of handrails, rest platforms, and dimensions of infrastructure for safely accessing the crown.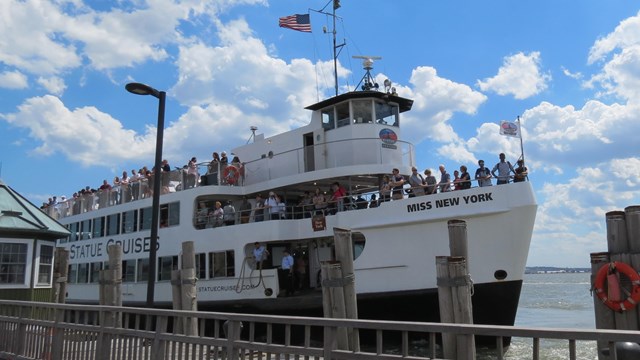 Statue City Cruises
Statue City Cruises is our official source for tickets to the island. Click this link for more information.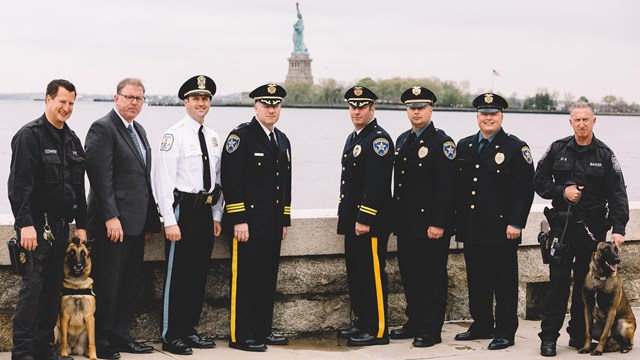 Safety, Security & Screening
All visitors must pass through airport-style security before boarding ferries at Liberty State Park or Battery Park.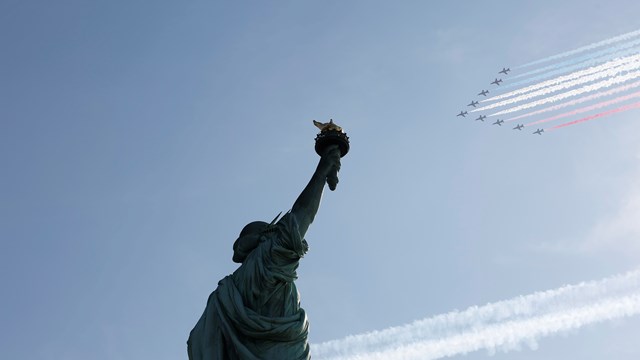 Get Directions!
Visitors can arrive to Liberty Island from either Battery Park, NY or Liberty State Park, NJ. Learn how to visit us here.
Last updated: October 27, 2022