News Release
The New Statue of Liberty Museum Opens to the Public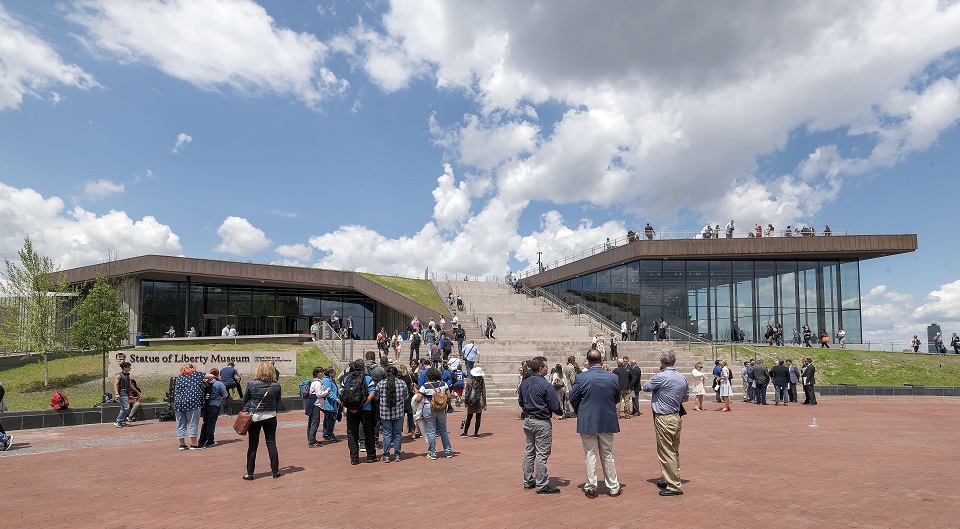 News Release Date:
May 16, 2019
Liberty Island, NY -
The Statue of Liberty Museum on Liberty Island opened to the public May 16th following a dedication ceremony presented by the National Park Service and the Statue of Liberty-Ellis Island Foundation, Inc. Superintendent John Piltzecker was joined by NPS leadership Dan Smith, David Vela, Gay Vietzke, and Joshua Laird. New York City Mayor Bill de Blasio, The Statue of Liberty-Ellis Island Foundation President and CEO Stephen Briganti, as well as campaign chairperson Diane von Furstenberg,  delivered remarks at the ceremony, which also included performances from Broadway stars and the Manhattan Girls Chorus.
The new museum is the most significant project undertaken on Liberty Island since the restoration of the Statue of Liberty over thirty years ago. Before the museum opening, only twenty percent of visitors had access to the interior of the monument where the statue's original torch was displayed and where the rich history of Lady Liberty was told in a small museum located within the pedestal. 
The NPS approached our long-time partner, The Statue of Liberty-Ellis Island Foundation, to conceive of a better way to bring this incredibly important story to all visitors. The outcome of those discussions is the new museum that merges into the historic and offers visitors sweeping, panoramic views of Lady Liberty, lower Manhattan, and all of New York Harbor. Access to the museum is free with the purchase of a Statue Cruises ferry ticket to Liberty and Ellis Islands.
"From the start, the Statue of Liberty Museum was conceived as a garden pavilion that would create a joyous and welcoming new experience for all visitors to the island, regardless of age, nationality, or ethnicity," said Nicholas Garrison, Design Partner and Project Director at FXCollaborative.

"Starting today, every visitor who comes to Liberty Island will have the opportunity to have a full museum experience, to learn about Lady Liberty's history and how She still shines as a beacon of hope for all people around the world," said Stephen Briganti, President and CEO of the Statue of Liberty-Ellis Island Foundation.
Building a new museum on Liberty Island presented a daunting set of challenges. The Statue of Liberty Museum has risen to meet those challenges and stands as a testament to the power of imagination and partnership. 
"As we open the doors to the public for the first time, I am struck by the notion that those doors will again swing open someday in the future by the hands of children whose parents visited here as a child today. And I am reminded that exactly this notion is written into the overarching mandates of the National Park Service - for the enjoyment, education, and inspiration of this and future generations," said Superintendent John Piltzecker. "Today, we share in the American people's gratitude for this remarkable contribution to the legacy of the Statue of Liberty, and for ensuring her story will continue to be told."
Last updated: August 16, 2020