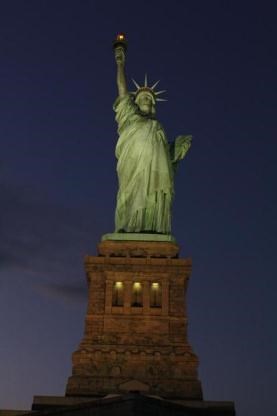 Your news source for the Statue of Liberty
Reporters may email the park's Public Affairs Office with requests and questions regarding the Statue of Liberty National Monument and Ellis Island. Reporters on deadline may call 646-356-2105.
Looking for a film permit?
Requests for permits to film anything other than breaking news must first be emailed to the park. Special use permit applications for other park uses may be found here as well.
Not media, but you'd like to visit?
Our Plan Your Visit section provides information, links and tips about what you need to know to visit the park. Get tickets for the ferry from Statue Cruises, which also sells limited tickets to the monument (pedestal) and the crown. Visiting the crown requires obtaining limited tickets well in advance, plus the ability to climb 377 steps.
Free photos, "b-roll" of Liberty Island and the inside of the Statue
Statue of Liberty National Monument offers still photographs and moving images of the park and the Statue for use by media organizations and individuals. All photos and movie clips are taken by park staff and volunteers and are not covered by copyright; they may be used by anyone, free of charge. We ask that you credit National Park Service (or, for international media, U.S. National Park Service) when you use them. Files include the interior of the Statue, high resolution images of the Statue and photos of the park before and after Hurricane Sandy, including the park's recovery.
Fact sheets
Statue of Liberty National Monument Fact Sheet
Ellis Island Fact Sheet

Other national parks in New York Harbor
In addition to the Statue of Liberty and Ellis Island Immigration Museum, New York Harbor is home to several national parks, including Gateway National Recreation Area and Federal Hall National Monument. News from National Parks of New York Harbor can be found in their virtual news room or on their website at www.nps.gov/npnh.