News Release
Statue of Liberty pedestal observation deck to reopen July 1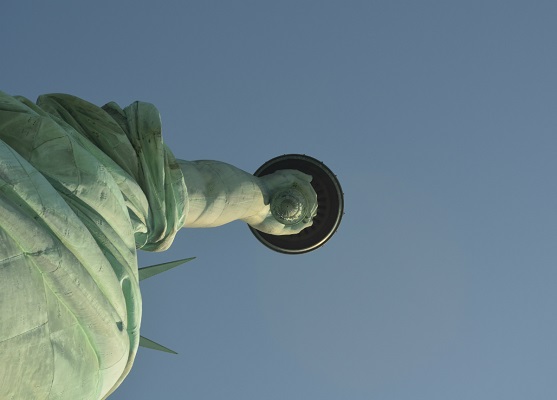 News Release Date:
June 30, 2021
Liberty Island, N.Y. – 
The National Park Service will reopen the pedestal observation deck of the Statue of Liberty on Thursday, July 1. Access to the pedestal is only available by advanced ticket reservations, and visitor capacity will be kept at 50%. Visitor hours will also be expanded beginning July 1 with the first ferry sailing to the islands at 9 a.m. and the last ferry leaving for the islands at 4:30 p.m. The statue's crown will remain closed until a future reopening phase. 
The NPS strongly encourages visitors to make advanced ticketing reservations at 
www.statuecruises.com
 to avoid ticketing queues in Battery Park, New York, or Liberty State Park, New Jersey. "The Statue of Liberty is a global icon of freedom and democracy, and it is fitting that we reopen it in time to celebrate Independence Day," said John Piltzecker, superintendent of Statue of Liberty National Monument and Ellis Island. "As we emerge from this pandemic, the health and safety of our visitors and employees continue to be our highest priority and we continue to coordinate closely with public health officials." 
Consistent with 
CDC recommendations
, people who are not fully vaccinated must continue to wear masks indoors and in crowded outdoor spaces. Masks are required for everyone, regardless of vaccination status, to visit the Statue's pedestal and on all forms of enclosed public transportation including ferry service to the islands. 
With the emergence of COVID-19, the Statue of Liberty National Monument and Ellis Island closed in March of 2020. The grounds of Liberty and Ellis islands reopened in July of 2020, followed by reopening the Statue of Liberty Museum and the Ellis Island National Museum of Immigration in August of 2020. 
The NPS operational approach to reopening facilities is centered on examining each facility's function and service to ensure those operations comply with current public health guidance and will be regularly monitored. Working closely with the NPS Office of Public Health, the park is using CDC guidance to ensure public areas and workspaces are safe and clean for visitors, employees, partners and volunteers. 
Visitors are asked to 
recreate responsibly
 by following guidance from the CDC and state and local authorities to 
reduce the spread of COVID-19
. 
Individuals looking to get a COVID-19 vaccine can visit vaccines.gov to find a location close to them and make an appointment. Individuals can also text their zip code to 438829 and get a text with the closest COVID-19 vaccine location.  
- NPS - 
About the Statue of Liberty National Monument
"The Statue of Liberty Enlightening the World" was a gift of friendship from the people of France to the United States and is recognized as a universal symbol of freedom and democracy. The Statue of Liberty was dedicated on October 28, 1886 and designated as a National Monument by Presidential Proclamation in 1924. Its purpose under the National Park System is to preserve, protect, and interpret as a national and international symbol of freedom and migration and to promote understanding, reflection, and discussion about the meanings of liberty and opportunity.
Last updated: June 30, 2021