Damaged Liberty Island Service Dock Removed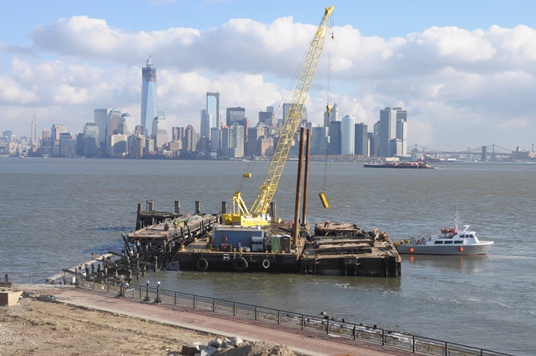 News Release Date:
January 29, 2013
Contact: Public Affairs Office, 917-299-3843
The National Park Service (NPS) has moved forward to remove the Liberty Island Shuttle Dock, which is a service dock used for equipment and emergency transport access to Liberty Island and the Statue of Liberty National Monument..This 7,060-square-foot timber dock was assessed as a total loss and hazard to navigation as a result of Hurricane Sandy.
The process to demolish and remove what remained of the dock and its substructure has been challenging due to remote location and security requirements that complicate logistics, in addition to rough tidal waters and inclement weather.Estimated material removed is approximately 220 tons.The contractors cut what remained of the timber dock into manageable portions with chainsaws, and then used a combination of a crane barge and slings to move materials to a debris scow for removal.The cost of demolition, removal and disposal of materials is estimated at $282,000. In addition to demolition and removal, the contractors will attach buoys and solar warning lights on remaining pilings for safety until the dock is replaced. Removal of the dock is anticipated to be complete by Friday, Feb. 1.
The NPS contracted with the Natoli Construction Company, which is working closely with Trevcon (the marine demolition company selected as the subcontractor). They have dedicated a highly skilled marine crew and vessel to coordinate the completion of the project with the NPS.In addition to these resources, a crane barge, debris scow, and 5 dock builders complete the team.
"We have been working diligently on planning efforts so that we can move quickly once funding has been identified," said Superintendent David Luchsinger. "Repair of the docks, as well as walkways and park infrastructure are key to reopening and welcoming our visitors back to these magnificent sites."
Background:
Hurricane Sandy caused a significant amount of damage to the infrastructure on Liberty Island.The Statue and its pedestal and base were unharmed, but all mechanical systems, docks, promenade, and ancillary structures around the rest of the island experienced heavy damage.
The two dock systems for Liberty Island are critical infrastructure to the parks' operations, as they provide access and egress for visitors and staff.The carrying capacity for the park is based on the ability to evacuate visitors from the island in a safe and timely manner from either dock, should it be necessary.
Note: At this time, Ellis Island and State of Liberty remain closed to visitors while NPS staff and contractors stabilize conditions on the two islands. 
Last updated: February 26, 2015