Southern Boundary Area Lakes
Mud Lake is a beautiful lake to look at despite its plain-sounding name. You can see it from Lake Michigan Road near the fish weir. There are no houses on it and it feels secluded and quiet even though it is actually close to the road. The shore is sandy and you can carry in a canoe or kayak, but there is no boat ramp. Although the shore is shady, the trees are big and old with very little underbrush, so the shore feels relatively free of bugs. Mud Lake is very shallow and has a muddy bottom. When you dip a canoe paddle in, it just disappears in muck and silt. The lake is best enjoyed from the shore.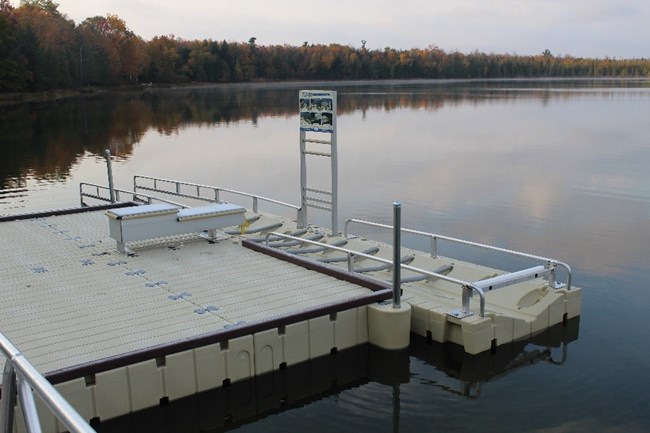 Loon Lake is a big, sandy bottom lake with an accessible canoe/kayak launch system where boaters can board, launch and disembark from a watercraft safely and easily. The ADA-compliant, floating dock system includes an accessible transfer system along with an accessible canoe/kayak launch system.
Loon Lake is one of the few lakes in the Lakeshore where motorboats area allowed. There is no beach but you can wade out near the boat ramp and the bottom is firm and sandy. There are only a few houses along one shore to the left of the public access. Countless people have crossed the northern tip of the lake as they floated down the Platte River. That end of the lake is extremely shallow. Loon Lake is good for fishing, and there are restrooms and a picnic shelter near a large parking lot at the Public Access, which is off M-22 just south of where M-22 crosses the Platte River.
Round Lake is the southern-most lake inside the Park. It was probably connected to Crystal Lake before the lake level was lowered. Round Lake is small, shallow, and has a sandy bottom. There is a gravel drive right up to the lake from M-22 where you can easily put in your canoe or kayak. No motorized boats are allowed. You can see Round Lake from M-22 just north of Crystal Lake and just inside the Park boundary.
There are two Bow Lakes and a Bow Lake Valley Pond. All are in a separate section of the park located southwest of Big Glen Lake and bordered on the south by Baaz Road. The lakes are privately held. Theyr are nearly inaccessible because there are no public access roads or ramps. The three lakes are fairly closely grouped and the lower two have some ecologically fragile aspects to them, so if you go there, please tread lightly.
Last updated: July 10, 2019