Rip Currents
Lake Michigan is a wonderful place to enjoy the beach and wade or swim-if you are careful. Swimming in Lake Michigan is not the same as swimming in a pool or small lake. Wind, waves, the slope of the beach, and other factors can cause dangerous currents to be present.
Rip currents are dangerous and can occur at any beach with breaking waves. These powerful currents move away from shore and are capable of overcoming even the strongest swimmer. The most common mistake of those caught in a rip current is to panic and attempt to swim directly back toward the shore. Although rip currents can pull a swimmer away from the shore, they don't pull you under water.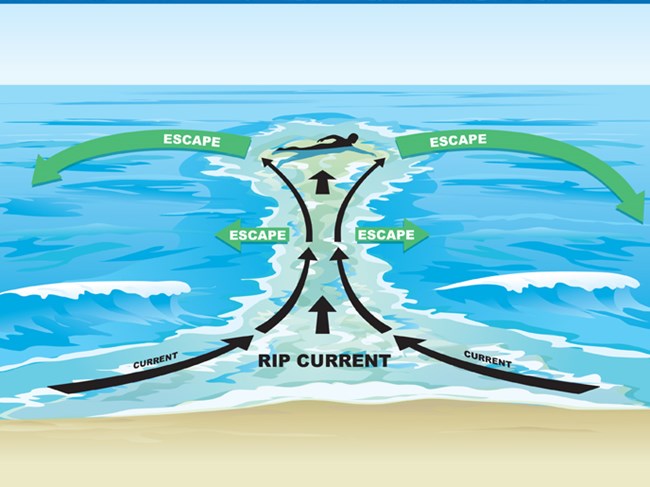 What to do if caught in a rip current:
Remain calm. Remember, it will not pull you under.
Swim parallel to the shore until you break free, then swim diagonally toward the shore.
If you cannot swim out of the current, float until it weakens, then swim diagonally toward the shore.
Summon help by waving your hands.
If someone else is caught in a rip current--yell directions on how to escape, throw the victim something that floats, and call 911.
Remember, Lake Michigan conditions can change quickly. Know what to expect before you go in the water. Tune in to NOAA weather radio, and monitor websites (National Weather Service, Gaylord Office) for updated weather and Lake Michigan surf conditions during your visit.
For more information on rip currents, check the NOAA website.
Last updated: January 12, 2018