Weaver Farm
The Weaver Farm is located on Basch Road on top of the bluff overlooking the lowlands to the north and Lake Michigan. The house is weathered and is falling down. For your safety do not enter the building. You can see the house from the road.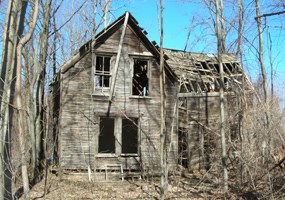 This parcel was first owned by Jacob Mantz, who purchased it in the early 1860's. He later sold it to Harrison and Almeda Weaver in the 1880's. The house dates to the early 1890's. According to Milton Basch, Albert Prause built the house, and at one time Frank Prause farmed the land.
Harrison Weaver was an accomplished blacksmith. He shod most of the horses in the Port Oneida area, including the American Saddlehorses owned by Fred Baker.
Unfortunately, The Weavers faced some difficulties as farmers. The farm was poorly located. Water draining from the roof of the barn caused a huge washout that can be seen today along the ridge east of the house. The farm was inundated by water on at least two occasions in the 1910's and 1940's. The barn, initially located east of the house, was moved in the 1930's to another site north of the house. Like many other barns in Port Oneida, the foundation consists of boulders at the corners of the structure.
Mr. and Mrs. Weaver had three daughters, Bertha, Eva, and Florabelle. Mr. Weaver remarried after his wife passed away. He and his second wife adopted a son, Archie. After Mr. Weaver's death, Mrs. Weaver and Archie operated the farm. Around 1940, however, they lost the farm due to delinquent taxes. Although they were able to keep the farm buildings and forty acres, they were forced to sell part of their acreage to repay the debt.
Despite the hardships faced by the Weaver family, they were noted by their neighbors for the pear and apple orchards that surrounded the house. They were able to produce enough to sell at D. H. Day's Glen Haven dock. According to Laura Basch, they also had grapevines and grew "good rye and beans."


Last updated: November 9, 2017