Eckerdt Farm
The Eckerdt Farm is located at the corner of Kelderhouse Road and Basch Road.
Henry and Catherine Eckerdt immigrated from Bohemia to the U.S. between 1850 and 1855, arriving in Michigan in 1857. In 1862, the Eckherts purchased and settled on their farm in Port Oneida. Their original log cabin is now owned by the A.I.R. Foundation and has been moved from its original location near the farm. Mr. Eckerdt was listed as a farmer as early as 1860 on the manuscript schedules for the federal population census. Henry's brother, George was married to Catherine's sister Mary, and they farmed on Baker Road just northwest of this farm. There are no buildings remaining at George's farm. Catherine served Port Oneida and the surrounding area as a midwife.
Their farm has been described as an "excellent example of an historical farm" and was the site of many dances enjoyed by community residents. The Baurs bought the farm around 1940 - 1950.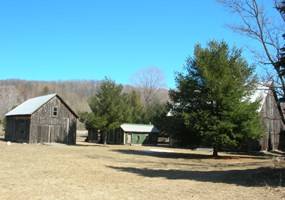 According to Elsa Eckhert Barriner, her father, Henry Eckhert Jr., grew corn, potatoes, and a variety of grains. The family also raised cows, pigs, chickens, and ducks.


Last updated: September 25, 2018