Platte Plains Area Lakes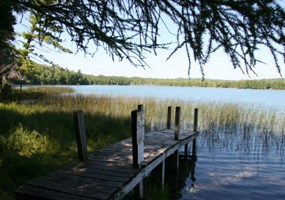 Otter Lake
is one of the nicest fishing lakes in the park. There is a rickety dock there and a mushy boat launch suitable only for canoes or kayaks. No motorized boats are allowed on the lake. The lake is quiet, with pretty surroundings and only a few cottages. There are plenty of shallows, a few coves, and some deep water. Eagles have been spotted near this lake, and there is a 4.6 mile hike around the lake called the Otter Creek Loop of the Platte Plains trail. It is likely that you will see evidence of otters around the edges of the lake. There are no restrooms at the lake, but there are some at Bass Lake and at Esch Road Beach. Get to Otter Lake by turning down Trails End Road off M-22 about 5 miles south of Empire or by taking Esch Road and hiking along Otter Creek up to the lake.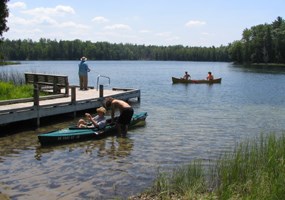 Bass Lake
is probably the best-known all-purpose lake in the park for hiking, canoeing, and fishing. There is a big parking lot, a restroom, and a sturdy dock where kids can fish or swim. The dock has a park bench where you can sit and dream. The boat ramp is excellent and handicap accessible. You have to carry your canoe or kayak to it from the parking area though, and no motorized boats are allowed. There are a couple of good hiking trails around the lake or off in the other direction (part of the
Platte Plains Trail
). Bass Lake is a great starter lake for teaching kids about fishing, hiking or boating. Bass is the last stop on Trails End Road.
Deer Lake is a small lake connected to Bass Lake by a shallow channel. You used to be able to paddle to Deer Lake from Bass Lake, but beaver have built a lodge between the two lakes and you now have to portage around it. The beaver activity seems to have raised the water level of Deer Lake as well, killing many of the shoreline trees. Deer Lake is a nature lake with a wild feeling to it. You can sometimes see otter playing in the lake or around the edges.
It is possible to hike in to Deer Lake by taking a two-track from Trails End shortly before you get to Bass Lake. You will see the result of extensive beaver activity as you get close to the lake.
The content of this page is based on an article by Jane Greiner published in the Glen Arbor Sun on June 29, 2006.
Last updated: April 10, 2015